The MonaVie Acai Berry Super Fruit Juice - Mona Vie Scam?
Published 12/30/08 (Modified 3/8/11)
By MoneyBlueBook
Review of MonaVie and The Acai Berry Fruit Juice Company's Health and Marketing Claims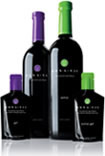 MonaVie. Mona Vie. The word actually sounds like a spin off of some french phrase (mon ami), but when I hear the name, two things immediately come to mind - acai berry juice and multi level marketing pyramid scheme. The MLM business scheme or pyramid marketing concept usually elicits a series of red alert alarm bells in my brain's BS scam detector, however, I'm willing to take a closer look at MonaVie before rendering my personal critique and verdict. After having tried out and actually tasted the MonaVie acai berry fruit drink, I have to admit, it's a rather sweet and tasty beverage - sort of a crisp combination of grape juice, blue berries, black berries, and a hint of dark chocolate. There's not much negative commentary I can sling at the MonaVie product in terms of taste alone, but the outrageously expensive price tag and the rather suspicious marketing approach of the company leave much to be desired.
Find the right credit card for you