Published 8/9/13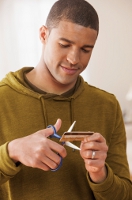 By Justin Boyle
I was at the house of a songwriter friend of mine who recently came back from a tour of Texas and Oklahoma, and he showed me an unusual souvenir he picked up on the road: a bill for the credit card he used to buy gas for the trip.
While that might not be a strange souvenir for most people, for him it was practically unheard of. As long as I'd known him, he had never had a credit card. He had been careless with credit in his early 20s, and for years he had been unable to get a decent rate from a credit provider.
After years of collection-agency calls and a near-bankruptcy, he's far from careless now. But not everyone has had the opportunity to learn good borrowing behavior the hard way.
If you don't want to learn the hard way, here are six things you may want to avoid as you build your credit history.
Read the full article »