Published 4/24/13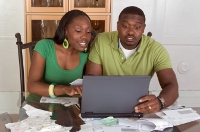 By Jennifer Goforth Gregory
Many of us bank online today without a second thought. I use online bill pay to handle the electric bill each month, and regularly check my accounts and transfer funds without leaving my house. And while I haven't accessed my bank account from my mobile phone, according to a recent study from the Federal Reserve, 21 percent of mobile phone users have accessed their accounts through mobile applications in the last year.
But when my husband recently suggested moving our funds to an online-only bank account, I was a little surprised. Each year we sit together and review the rates and terms on all our accounts to make sure we are getting the best deal possible. While looking at the information, my husband pointed out that our credit union offered an online account with a higher interest rate than we were currently earning and much lower fees.
But when I looked at the fine print, I realized that this account would not grant us free access to our local branch and would require us to give up our checkbook. Not all online-only banks require you to give up your checkbook -- many now offer check-writing privileges just like an ordinary bank -- but that was the deal with this particular account.
Because we were already comfortable using online banking, our main concern was what we would lose in services and convenience by changing accounts. Here are three key questions that we asked ourselves when trying to make the decision.
Read the full article »