Published 1/17/14  (Modified 1/18/14)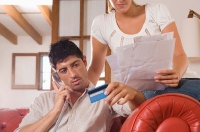 By Holly Johnson
If your employer pays you on a prepaid debit card instead of a check, it doesn't have to be that way. Last fall, the Consumer Financial Protection Bureau issued a warning to employers in regards to how employees must be paid. According to the bulletin, employers can no longer force employees to accept payment on a payroll card, although they may still offer the option. In addition, employees who choose to accept payment on a payroll card became entitled to certain federal protections.
So, what is all the hubbub about? Basically, it's this: Many employers, particularly those of hourly employees, have moved away from traditional payroll checks and toward the use of prepaid debit cards over the last few years. And apparently, they have a big incentive to do so. According to Visa payment solutions, employers have a lot to gain from making the switch, with benefits such as convenience, less paper waste and significant financial savings.
Unfortunately, the benefits of prepaid debit cards aren't necessarily as obvious for employees. Firstly, according to the CFPB bulletin, some employees have complained about fees related to the use of their prepaid debit card, including fees for ATM use, teller withdrawals and balance inquiries. Secondly, many workers didn't realize that they had other options when it comes to how they're paid. These two issues helped prompt the CFPB bulletin outlining the current rules when it comes the use of the cards for payroll purposes, according to the agency's release.
Prepaid debit cards: It's your choice
Still, accepting payment on a prepaid debit card doesn't have to be all doom and gloom.
Read the full article »