Published 12/7/12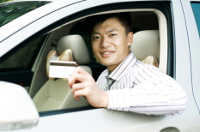 By Tim Sullivan
I remember anxiously waiting in line at a rural African bank, hoping they'd exchange the travelers checks I had purchased before leaving the U.S. This was almost a decade ago on my first trip overseas, and it was an uncomfortable introduction to the art of managing money abroad.
Thankfully, my days of travelers checks and dishonest conversion rates have mostly come to an end for one reason: I travel with plastic. Compared to many payment methods, traveling with credit cards is safe, secure and inexpensive. That said, some precautions must be taken. Here's a list of four tips you'll need when heading abroad with your credit card:
1. Get a card with no foreign transaction fees
Using my rewards card while abroad to pay for hotels, car rentals, train fare, eating out and museum tickets is a great way to boost the travel points that may help fund future trips. However, you can easily cancel out those rewards by paying a 3 percent foreign transaction fee on every purchase. There are many cards with no such fees on the market, so make sure you have one in your wallet before you depart.
Read the full article »