Published 5/8/13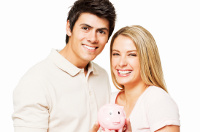 By Anthony Fontana, Zing!/Quicken Loans
This story comes from our partner, Zing! by Quicken Loans
As a college student, this time of year was bittersweet. On one hand, the semester was winding down and summer vacation was just a few sleepless nights spent cramming for exams away. On the other hand, the end of the semester also meant it was time for a summer job.
A good summer job can make for a memorable summer. However, a bad summer job can make the summer seem like it's dragging on forever. Below is a list of jobs for you to consider this summer if you want to make some money and have fun at the same time.
Server
If you're looking to make some quick cash, work at a restaurant or bar as a server, not a dishwasher. While your paychecks generally won't be worth a whole lot, you won't have to wait a week or two for payday because you'll bring home cold, hard cash after every shift (hopefully). Look for establishments that have outdoor seating, as it's likely they'll need to hire extra help for the summer.
Read the full article »