Published 3/7/14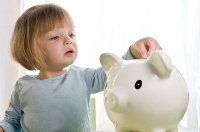 By Justin Boyle
I had just turned 8 years old when my mother took me to our neighborhood bank branch to open my first savings account. I had $20 in birthday money from my aunts and uncles and was about to learn valuable lessons about putting money away for the future.
But to hear my mother tell it, the only thing at the bank I wanted lessons about was the coffee machine. I walked out of there remembering my first taste of French roast much more vividly than my first taste of financial propriety.
Now, don't get me wrong. The old-fashioned "open a normal savings account with a friendly banker" approach might work for some kids. If you want to take a more creative direction though -- or if your kids are also at risk of becoming writers, who care more about coffee than practically anything -- here are a few tricks you can try.
Piggy banks 2.0
Maybe it's time we admitted to ourselves that the piggy bank has its drawbacks as a learning tool. The process of making even medium-sized deposits can be a chore, and there's no real way to check your balance without breaking and entering -- not to mention that it's possibly the worst option on the market as far as savings account interest rates are concerned.
Read the full article »