Managing money when self-employed
By Peter Andrew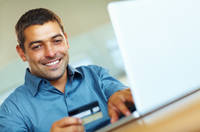 Are you an "independent"? I'm not asking if you're politically unaligned. I want to know whether you "turn to freelancing, contract work, consulting, temporary assignments or on-call work regularly each week for income, opportunity and satisfaction," which is a definition of the word used by the MBO Partners State of Independence study, 2015 edition..
That document contains some astonishing statistics:
In 2015, there were 30.2 million Americans over 21 years of age who fit that description, of whom 17.8 million are full-time independents and 12.4 million are part-timers. Another 11.9 million take on those sorts of assignments occasionally.
Together, they generated revenues topping $1.15 trillion. That's nearly 7 percent of U.S. gross domestic product.
The number of independents working in America is expected to hit 37.9 million by 2020.
Of those who work this way, 30 percent are Millennials (defined in this study as those age 21-35 years), up from 12 percent just four years earlier.
The "gig" economy
The rise of the gig economy (so called, because each assignment lasts a short time, like a musician giving a one-night performance) may or may not be transforming how we work. Some argue there have always been millions of freelancers and contract workers, and the fact they're now booked online rather than through Yellow Pages and brick-and-mortar agencies isn't such a big deal. But new companies like cab facilitator Uber, butler service Alfred, home cleaning provider Handy and freelance resource eLance might make real change in many lives.
If it does, it's likely to bring challenges as well as benefits. That MBO Partners study paints a rosy picture, with 72 percent of survey respondents claiming "doing something I like is more important than making the most money." That makes sense because only 45 percent said they were making more money than they would in a traditional job, and just 16 percent reported they wanted to grow their "businesses" over the next two or three years.
Switching to the gig economy (also called the on-demand economy) certainly gives most independents more freedom to control their schedules, which is worth a lot to many -- and not just obvious groups such as single parents. But it also means living without a predictable paycheck -- or, for that matter, employee rights and benefits, including that to the minimum wage. In July, Arun Sundararajan summed it up in the Guardian:
To the optimists, it promises a future of empowered entrepreneurs and boundless innovation. To the naysayers, it portends a dystopian future of disenfranchised workers hunting for their next wedge of piecework.
Coping with the downsides
As a freelance writer, I've survived -- and occasionally thrived -- in the on-demand economy for decades. And the advantages in terms of personal freedom are very real.
However, the disadvantages can sometimes make life extremely uncomfortable financially. Some clients and agencies can keep you waiting 60 to 90 days or even longer for payment. And you have zero income security. Even if you do a great job, some bean counter in a company you rely on can suddenly cut a random budget, slashing your revenues at the stroke of a pen. If anything, the fact you have no grounds for complaint (that's the nature of freelancing) makes picking yourself up from such a blow more difficult.
The only way to survive in that environment in the long term is to find ways to smooth out the sharp variations you're likely to encounter in your cash flow:
Open two high interest savings accounts. The first is there to keep the IRS off your back, and the second to keep food on your table and the lights on. Top up during times of feast, and draw down (though only on the second account) when famine hits.
If you're creditworthy but bad at saving, consider opening a personal line of credit. This lets you borrow cash up to a set limit, and pay it back largely as you can. Like a credit card, you pay interest only on outstanding balances, but rates are normally lower than for plastic.
If you're creditworthy and a home owner, explore home equity lines of credit (HELOCs). These are similar to personal lines of credit, but almost always have significantly lower interest rates. However, be warned: If you get into trouble with one of these, your home is going to be on the line. And HELOCs can be complicated, so be sure you fully understand what you're getting into before signing anything.
Try to avoid plastic for borrowing. By all means find the best credit card reward programs for you, and use plastic for spending. But then zero your balance at the end of each month. It's hard enough to get by in the gig economy when you're not burdened with high-interest debt. It's likely impossible with it.
Those tips might help you keep the show on the road while you're working. But they don't help you plan for the future. You may intend to work till you drop, but that may prove impossible, and its wise to make provision for your later years. IRAs, Roth IRAs, SEP-IRAs and Solo 401(k)s could be your friends. But maybe your best friend of all could be a financial adviser who specializes in self-employed people like you.
Peter Andrew has over 25 years of experience writing about marketing, advertising and management. He regularly covers consumer credit card topics for IndexCreditCards.com and other personal finance publications including Fox Business, TheStreet and MSN Money. He also writes frequently about mortgages and auto loans. Peter has spent extended periods living overseas, in the UK, France and Africa. He lives with his partner of 20+ years, and wastes too much of his time on cryptic crosswords.