Published 5/16/13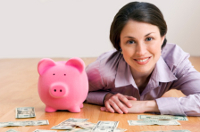 By Georgie Miller
According to the National Center for Education Statistics, more than 1.7 million students will graduate from college this year. Graduation season is one of my favorite times of year. It reminds me of a time when the future was full of possibility.
However, there are some things about life and money that I wish I had known before entering the "real world."
1. Don't pigeonhole yourself
When I started looking at job ads, I was worried because I didn't see any that specified my major. However, I've been working happily for five years in a job with no explicit connection to my degree.
Read the full article »