Published 12/2/13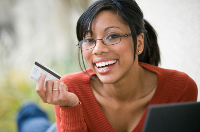 By Peter Andrew
I had a deprived childhood. Most of my friends had at least one bachelor uncle or maiden aunt who'd turn up each Christmas, spectacularly fail to fit in with the family festivities, and make up for it by slipping one of the Bureau of Engraving and Printing's more sought-after banknotes into the greeting card he or she gave each child.
Moms and dads would later apologize to the children, pointing out that such childless kin knew nothing about kids, and thus lacked the knowledge to buy a proper gift. But, provided the bills weren't snatched by parents only to disappear into boring old savings accounts, all my friends loved getting cash, and I was deeply envious. Weep for the 8-year-old me.
Happier holidays?
How things have changed. Today, such relations may turn up with same-sex partners, and are often the life and soul of the party. Banknotes are much more rarely given (still not regarded as a thoughtful gift, apparently) and instead gift cards are the most common present.
And I mean that literally: Research from Accenture, a global consulting firm, found those cards the single most popular present on 2013's seasonal shopping lists, ahead of apparel, toys and electronics.
Read the full article »