Published 6/16/14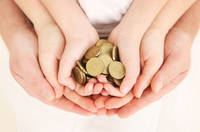 By Holly Johnson
According to data released by the U.S. Department of Agriculture last year, the average cost to raise a child born in 2013 to age 18 is expected to be $241,080. Government number-crunchers examined weighty expenses such as groceries, transportation, shelter, day care, health care and education to reach this frightening figure.
The cost of raising children is definitely something to think about before you have kids. Your kids will need necessities like food, shelter, health care and education, and some of these expenses may be hard to skimp on without losing something in return. However, it is extremely easy to save on other everyday needs your children will have. Here are a few ways to do it.
1. Stick to secondhand
Thanks to garage sales and the magic of the Internet, you can find all kinds of used kid's stuff for pennies on the dollar.
Read the full article »