List of zero percent credit cards and balance transfer offers
By Joe Taylor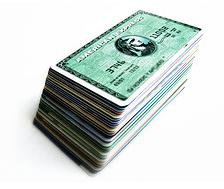 When credit card issuers faced the 1-2 punch of an economic crisis and new regulations, it seemed like 0% introductory APR balance transfer offers landed on the endangered species list. Now that banks are flush with cash and ready to lend, it's time to start saving money by paying down debt with no interest.
Why balance transfer offers?
A few years ago, I loved making free money by requesting zero percent introductory APR balance transfer checks from new credit cards, then depositing them into high interest savings accounts until just before the point where I'd have to start paying interest. The banks must have gotten tired of giving me all that free cash, since those kinds of deals have completely disappeared. It's no longer profitable for banks to let consumers surf balances from card to card without a little friction. Therefore, even the best 0% introductory APR balance transfer deals require you to pay up to 5% as a flat fee.
Still, the balance transfer process has become easier than ever for consumers who really do need to save some money on their bills each month. You can use a balance transfer check to cover utility bills or an occasional car payment, then use my same trick to make a little of that money back at the end of the year. Instead of paying down that 0% introductory APR balance, park your payment in an online savings account or in a short-term CD. Even if your investment only nets a point or two, you're still making back some of the money you had to spend on your transfer fee.
Here is my personal list of the best 0% intro APR balance transfer credit card offers
To help you get started, I've put together a quick list of the very best zero percent introductory APR balance transfer offers on the market right now.
The choices were made after reviewing and balancing all terms and considerations such as length of 0% intro APR offer duration, whether any balance transfer fee applies, whether the 0% intro APR applies to purchases as well, and whether there are any additional rewards for purchases:
Slate from Chase The 0% introductory APR on balance transfers and purchases that lasts 15 months. And as an introductory offer no balance transfer fee on transfers made within 60 days of account opening. All other transfers: either $5 or 3% of the amount of each transfer, whichever is greater. In addition Chase supercharged this credit card with Blueprint, a set of online tools that help you budget your way out of debt.

Chase Freedom 0% introductory APR for 15 months on balance transfers and purchases, plus you can take advantage of a cash back bonus that puts $100 back in your wallet after you make $500 in purchases in your first 3 months from account opening. That could even cover the cost of the initial balance transfer fee, which is either $5 or 3% of the amount of each transfer, whichever is greater if you're clever enough.
Right now, a couple of the banks are letting cardholders surf balances with no balance transfer fee. Keep an eye out for the offers because the no balance transfer fee offers are primarily for a limited time. Otherwise, it's up to smaller, regional banks and credit unions to carry the no balance transfer fee banner for their local account holders.
In the meantime, you can take comfort in knowing that you've capped your first year interest to 3-5% with any of these cards. Just keep in mind that a handful of balance transfer offers may require you to make other purchases on your card to maintain your deal and free credit report. Whatever you do, remember to pay your monthly minimum payment on time or risk paying double-digit interest on your entire balance the following month.