Published 2/21/14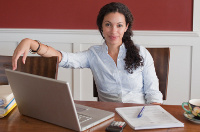 By Holly Johnson
No matter where you live, chances are good that almost everyone you know owes money to someone. They owe money on their cars, their credit cards and their private loans. They've got satellite television and swimming pools, season tickets to football games and designer clothing. Judging only by appearances, the average family appears to have it made.
However, the numbers prove otherwise. According to Experian's latest State of Credit study, the average American is over $27,887 in debt, not including mortgage debt. And if you look around you, it's easy to see why.
If you're in debt and ready to change your ways, it's important to know that it's not too late. You can change your behaviors, change your spending habits, and learn to live within your means once and for all. It may not be easy, but it's the only way to escape from the debt you've created. Here are five essential steps to escaping your debt, once and for all:
Track your spending
Most people end up in debt because they spend more than they earn. The only way to solve this problem is to identify your spending weaknesses and address them.
Read the full article »