Published 9/19/14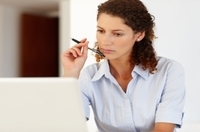 By Georgie Miller
According to a popular estimate, more than 40 million Americans now owe a combined $1.2 trillion in student loans. That's made the issues surrounding these loans -- including income-based loan repayment plans -- a hot topic lately.
Income-based repayment plans may lower your monthly payments and, over time, even eliminate some of your student debt. But not every borrower is eligible for an income-driven plan, and if you are eligible, there's lots to consider when deciding if it's the right choice for you.
Income-based repayment options

The standard repayment plan for a federal student loan is 10 years. However, as you will learn about money after graduation, your grown-up salary may not be as big as you think it is. You will also have other priorities, including savings and retirement, and maybe even an occasional vacation.
According to the Federal Student Aid website, an income-driven plan is worth considering "if your outstanding federal student loan debt is higher than your annual income or if it represents a significant portion of your annual income."
There are three main types of federally available income-driven plans:
Income-Based Repayment (IBR)

Pay As You Earn (PAYE)

Income-Contingent Repayment (ICR)
Read the full article »