Published 1/11/13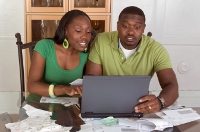 By Justin Boyle
It's hard not to be generous during the holiday season, to ourselves as well as to others. The trouble with that generosity, though, is that it can lead to racking up some lofty balance figures on our credit card statements.
But starting today, you can formulate a solid plan of attack on that extra holiday debt. Here are six steps you can follow to make sure that the personal finance blow-back from your holiday generosity doesn't haunt you throughout the new year.
1. Freeze your spending
Every January 1, my aunt in New York takes whatever credit cards she's used for Christmas gifts that year and chucks them into the icebox. It keeps her from raising her balances any further, she says, while also serving as an effective reminder of her pledge every time she opens the freezer door. Her literal approach to a credit freeze may be a more eccentric gesture than you prefer, but using your own method to halt your spending can help you stop buying on credit as you get things under control.
2. Confront the numbers
Take an hour or so one evening to lay out a roster of your holiday credit cards.
Read the full article »