My Complete Financial Net Worth and Progress Summary for 2007 - A Good Start, But Still Ways To Go
Published 1/3/08 (Modified 3/9/11)
By MoneyBlueBook
Comparing financial networth can be tricky since you aren't always comparing apples to apples and oranges to oranges. Married individuals that combine the incomes and assets of both spouses will clearly have much higher networths and much lower expenses than single individuals.
With that in mind, here is some background information to help you know where I stand. I am currently in my late 20's, not married, currently renting, and working a contract job that pays reasonably well. I graduated from law school a few years ago and am still trying to figure out exactly what is it that I want to do professionally. I took things easy after graduate school, choosing to enjoy life and neglected the importance of saving early. I did not start tracking my finances and focus on saving until the start of 2007 last year. All of my savings and investments were initiated one year ago on January 2007. Here is the summary of my 2007 financial progression and where I stand now.
Tracking My Financial Progress Using Networth IQ
| | |
| --- | --- |
| I've held off from using Networth IQ to track my financial net worth and progress due to my original dislike of the program's overly simplistic graphical chart displays. For such a popular widget among financial bloggers, you'd think the company would have come out with a nicer and more sophisticated looking display. But I've finally caved and have decided to enter in my stats and will be tracking my monthly progress from here on, starting January 2008. It'll be interesting to see how I progress in terms of income and savings. | |
Investment and Retirement

The bulk of my investments are in emerging market mutual funds, including the Fidelity South East Asia Fund (FSEAX), and in a few speculative stock positions, including Superconductor Technologies (scon). I know my investment approach is extremely aggressive, but I don't mind taking on tremendous risk as I am investing for the long duration (25+ years). Despite the recent downturn in the stock market, my investment portfolio still gained 25%, primarily due to my fortunate timing earlier in the year as well as the continued growth of my target markets.
In early 2007 I opened and made my first Roth IRA contribution for 2006. I have yet to contribute for 2007 and 2008 but will certainly do so by the April 15 deadline. Although I am currently performing contract work, I do also get a small matching 401k plan through my employer. However, I didn't fully take advantage of this in 2007. In 2008 I hope to contribute enough to get the maximum match.
Spending, Credit Cards, and Balance Transfer Arbitrage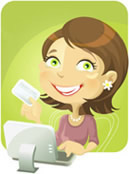 Currently, I use a combination of reward credit cards to pay for everything - using a different credit card for different types of purchases to get the maximum reward benefit possible. I rarely lug around cash, although I do keep about $100 cash on my person for emergency use. In 2007, I racked up the equivalent of nearly $850 worth of credit card rewards and cash back that I have yet to redeem. Most are in the form of Citi Thank You Points that I will be converting to a credit balance soon. As for credit card debt, I have none because I always pay off my balances in full every month.
In 2008, despite lower yielding bank interest rates, I still plan on starting the 0% balance transfer credit card process, also known as the App-O-Rama. Despite it's silly name, for those who are responsible with credit card usage and have good financial sense, it's a good way to earn extra interest income by depositing the balance transfer amount into high yield savings account. I pulled my most recent free credit report and checked my free credit score - my FICO's a very healthy 745 so I'm good to go.
Checking and Savings
My most actively used checking account is an E-Z Checking Account handled by Citibank that earns no interest. I keep the deposited balance very low as a result. Excess funds not needed immediately are transfered into an attached E-Savings Citibank account. Currently the yield is only 3.75% APY. In 2008 I have plan to chase better savings interest rates through online banks like E-trade Bank.
I also have plans to migrate my primary checking account into one that offers a reasonable interest rate without requiring too high of a minimum balance. Is there such a thing? I also plan on opening a business checking account for my side business one of these days. Currently, I can't open a business account using my fictitious business name until my trade name application has been process - but it's taking longer than expected.
Expenses

Most of my regular expenses is made up of my apartment rent and food. My rent is currently $1,425 for a one bedroom condo, an expense I gladly pay since it gets me away from the roach infested dump I used to live at (I'll write more about my past scary housing experiences sometime). My commute to work is by Metro subway trains, so I don't pay much in the way of gasoline and other transportation costs. Looking at my monthly expenditures, I notice that I eat out way too often. Luckily I use restaurant reward credit cards and basic frugality sense to lower costs. Being a bad cook and trying not to eat out so often is difficult. My solution is to make sure that I marry a girl one day who is an exceptional cook and loves to cook for her man. Hehe :)
Real Estate and Housing

I do not currently own a home, nor do I have any plans in the near future to subject myself to the mercy of the collapsing housing market. I am hoping that housing prices continue their plunge for several more years and shed at least 25% of their value before I will seriously consider buying. I am perfectly happy renting an apartment in the meantime and anticipate continued Fed rate cuts. I guess I am looking to time my entrance with bottomed-out housing prices and low interest rates.
The majority of the networth of many people out there is due to the home equity they have in their homes. As I am not currently a homeowner, I do not have home equity to list as my asset. However, what I do have is flexibility in where I invest as I am not stuck with an unfavorable long term mortgage commitment.
Student Loans
My students loans are the primary drags on my overall networth, however they don't hinder me financially at all. For someone who graduated from law school not too long ago, my $30,000 worth of student loans are very tame compared to the more than $100,000 that many law students frequently graduate with.
Fortunately, I was able to consolidate my student loans at a very low fixed interest rate in 2004. I was also able to take advantage of all Sallie Mae borrower benefits to further reduce my interest rate to a very low fixed 2.25%. My monthly payments are only $199, a piece of cake in the grand scheme of things. Because my student loan interest rate is so low, I have little incentive to pay it back quickly, and prefer to leave the amount in high yield savings to earn interest income.
Side Business
In my personal quest to one day stop trading hours for dollars, other than working my full time day job I also run a few other side ventures as well. They are growing but I plan to spend more time on them in the new year. I hope I can devote the needed time to keep them growing as they are quite time consuming - sometimes it feels like I'm working a second or even third job. But I am excited for the new year and hope 2008 will bring forth bigger and better things for everyone. I know it!