Gift Card Purchase Fees Are A Waste Of Money - We Need To Start Using Chinese Red Envelopes
Published 1/4/08 (Modified 3/9/11)
By MoneyBlueBook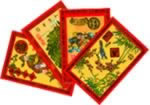 Is it just me or is there something very wrong when you have to spend money to buy what is essentially the some denomination as money? Because that's basically what people are doing when they buy gift cards and are required to pay a purchase fee.
Personally, I have no problem with buying or giving gift cards as a presents. Gift cards are more flexible than the usual pre-chosen gift since the recipient theoretically has the option to determine how best to spend it. But therein lies the limitation and fallacy of the flexibility of gift cards. They're actually not as versatile and unrestricted as people may think they are. Since most gift cards are only good towards the particular store they were purchased for, they are limited to that one location.
Gift Cards Impose Limits and Purchase Fees
If I receive a Starbucks gift card for example, I am limited to using it at a Starbucks store, even if I prefer the coffee drinks served at the Caribou coffee shop next door. What if I'm not even a coffee drinker? Then what am I supposed to do with this extra card? End up selling it on eBay for a price less than face value like so many gift card holders end up doing? Truthfully, having the gift card actually limits my options.
One of the most frustrating aspects of gift cards is the upfront purchase expense required. If you want to buy a $25 gift card for your friend, think you're paying $25 for it? Think again! You'll likely be paying $25 along with an extra processing fee on top of that. Even with a universally accepted American Express gift card, you'll be required to pay a $3.95 charge just to purchase it, along with an extra $2.00 monthly fee that drains the card after the first 12 months.
Retailers Love Profiting From Gift Card Overspending and Lack Of Use
Retailers giggle like little school girls when customers buy gift cards. Since gift card sales are made at the point of purchase and not when they are actually redeemed for merchandise, retailers profit immediately from the card's face value and the purchase fees when the cards are bought. Retailers are well aware that recipients of gift cards frequently end up spending more than the value of the cards and that any remaining amount can be chalked up as extra profit.
Consumer statistics indicate that after one year, nearly 27% of gift card recipients haven't used their cards, with 7% of consumers never redeeming their cards. Common reasons why gift cards go unused include: not having the time to go out to use them, not finding anything worthy of purchasing, forgetting that you even had it (I'm guilty of this one), and losing the card and having it ultimately expire. My advice is, if you're going to give someone a gift card, you should also hand them the gift receipt for the card. While many retailers won't allow the gift card to be returned, at the very least they can replace it if it gets lost, damaged, or stolen. While many states now outlaw gift card expiration dates, not all consumers are protected from such diabolically hidden practices.
Best Solution - Adopt The Chinese Practice Of Giving Out Red Envelopes Stuffed With Cash
The most versatile gift is really just plain old cash, which gives you a perfect 1:1 exchange rate without the extra and unnecessary charges. The Chinese really have the concept of cash gifting all figured out and ingrained in their culture. For special events like birthdays, New Years, and graduations - red envelopes containing hard cash are offered as gifts. What a liberating gifting practice!
In Chinese culture, it's tradition for the older generation to give children and the younger folks red envelopes for special events as a sign of encouragement and love. For kids, getting cash is the best type of present to receive. Cash gifts can even be immediately deposited into high yield saving accounts, thereby serving another important teaching tool of the importance of saving for the future.
I wish we can adopt this type of stigma-free cash gifting in this country. With the diversification and permeation of different cultures, perhaps one day such a custom will be more universally accepted here.