Happy New Year - My 2008 Market Predictions and Financial Plans
Published 1/1/08 (Modified 3/9/11)
By MoneyBlueBook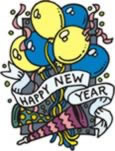 Happy New Year everybody! So long 2007 - it was an interesting year but I'm glad it's behind us. Let's pray the world can see more peace in 2008 and hope the financial markets will resume its bull run again. Markets are incredibly difficult if not impossible to time, but here are a few of my predictions and projections for 2008. They may or may not come to fruition, but I'd just like to put them out there to see if I am correct or not. I'm not advocating or pushing for them to necessarily happen, but I think they are likely to occur.
Here Is How I Think The Economy and Financial Markets Will Respond In 2008:
The U.S. economy will not enter into an actual recession of negative growth, but expansion will be very subdued. Consumers, the primary driving forces of the economy, will continue to spend as always, although many will cut back on expenditures compared to prior years.
The U.S. stock market will stagnate greatly along with most of the world stock markets, except the Asian emerging markets. China, Hong Kong, Taiwan, and Korea will resume their bull market rise, outpacing U.S. markets, although the rise will not be as dramatic as that witnessed in 2006 and 2007.
Housing prices will steadily drop nationally overall with very limited local pockets of modest price increases. However, continued foreclosures will cause housing inventory to continue rising, and prices won't stabilize and trend upwards again until at least 2010. The credit crunch write-offs in the mortgage and financial sectors will continue to worsen in 2008 with more heavy losses surfacing. The plight of financial stocks will severely worsen before they get better.
Despite rising gas prices, oil prices will not reach $100 a barrel in 2008 and average pump prices will ebb and flow throughout the year at an average price of around $3.10, but won't exceed $3.40.
Although not financially related, Hillary Clinton will win the Democratic nomination and go on to become the first female President of the United States in November 2008. Whether I agree or disagree with this result is immaterial as it doesn't deter my belief that the Republicans won't be able to produce a candidate that can compete with the Democrat's selection this year.
Here Are My Own Personal Financial Plans and Projections In 2008:
I will hold onto my Asian emerging market fund investments despite recent pullbacks, and will continue to average down my dollar cost if the markets continues to dip.
I will also continue to hold onto my "fun stock", a sizable but purely speculative position in Superconductor Technologies (SCON). I am betting that the company's wireless joint venture with their Chinese partner company will produce sales contract results in 2008 that will send the stock soaring to dramatic heights. It may or may not happen but I am in it until the joint venture produces favorable news as it likely should.
I will continue to focus on saving as much of my regular working income as possible, investing the bulk and storing the rest in high yield savings accounts, such those enticing ones offered by EverBank and E-Trade Bank.
Although much delayed and despite the recent drop of interest rates, I will start the App-O-Rama process to earn interest money through 0% balance transfers.
I will continue to contribute to my Roth IRA regularly and max out my contribution limits of $4,000 for 2007 and $5,000 for 2008.
Despite time consuming personal matters I may need to regularly attend to, I will continue to enjoy my contract work lifestyle and continue to grow my side business and online ventures.