My Website is Slower Than a Speeding Turtle
Published 10/20/07 (Modified 3/22/11)
By MoneyBlueBook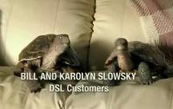 I think the Comcast turtle mascots would love the speed of my website. The Slowsky's like things "slow and easy" - a perfect description of my site right now.
I apologize for the sluggishness in page load time and the occasional appearance of site error messages for the last few days. I just migrated my web hosting to Dreamhost. I thought this would solve the uptime and speed issues I had with Hostmonster, but it looks like I'm having the same problems with Dreamhost as well. It has been a pretty frustrating week to say the least. :(
Dreamhost doesn't offer live chat or telephone troubleshooting so sometimes I have to wait a few hours to a day before they respond to my e-mail support requests. The tech guys at Dreamhost continue to be very professional and courteous, and that's why I've been giving them the benefit of the doubt. But at some point, they have to be able to deliver and fix the problem permanently. I really hope they repair the malfunction soon. The company is very likable, but I can only tolerate so much.
Separating Truth From Fiction
Are there any affordable web hosting services out there with truly reliable service? They all seem to guarantee 99% uptime, but always fail to deliver. It's so hard to get a genuine, unbiased opinion about which company offers the best service. I suspect many webhosting companies pay people to visit websites and forums anonymously to say favorable things about their company, while badmouthing the competition. It's hard to filter out the junk to get to the truth sometimes.