Published 9/11/14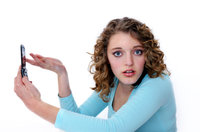 By Justin Boyle
Can you believe it? If Jennifer Lawrence, Rhianna and other A-listers are vulnerable to major thefts of information like the high-profile leak perpetrated in August, wouldn't it be just as easy to swipe personal data from all of us regular people?
For anyone who uses online savings accounts or personal finance apps, the news that's come out since the attack has a twofold upshot: The bad news is that your data might be insecure, but the good news is that you can take steps to guard your account info against would-be attackers.
How it happens
Authorities initially pointed to Apple's cloud hosting service, iCloud, as the source of the vulnerability, but those accusations have since been dismissed as simplistic. Apple, for one, has avowed that none of the cases of data breach they'd seen were the result of iCloud being compromised.
Apple spokespeople report that the victims' accounts were most likely accessed using their actual usernames and passwords, rather than through a "back door" into the iCloud backup server. If that's the case, then the stolen data was mainly vulnerable because of poor security on the user side.
In other words, you can likely protect yourself better than the victims here. Here's how to do it.
Read the full article »