My Super Sweet 16 - Messing Up and Spoiling Kids For The Next Generation
Published 1/6/08 (Modified 1/2/12)
By MoneyBlueBook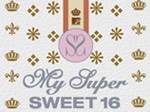 For those who haven't seen it before, MTV's "My Super Sweet 16" is one of the many things in television pop culture today that is seriously messing up the minds of kids today, leading them down the path of excessive consumerism and obsession with wealth and entitlement. The MTV reality TV show follows and documents the 16th birthday celebrations of upper class teenagers. Now these are no ordinary birthday parties. We're not talking about a day at Dave and Busters or the bowling alley. On this program we have stretch Hummers, horses, live dancers, famous rap stars, decked out ballrooms, and budget rolls in excess of $300,000. Everything is paid for in cash or with quick obligatory swipes of the parents' trusty Amex Black Cards or Visa Black Cards, indispensable and exclusive tools of the trade. You won't see any "paltry presents" like Apple iPods or Gap clothing here. Instead, the doting parents of these spoiled rotten kids prefer to give them top of the line BMW's and Land Rover's, capped with red bows on top to quench their material thirst. The show, although quite entertaining, proclaims the non-stop need to spend, spend, and spend to the utter collective delight of all luxury car dealerships and luxury boutiques everywhere.
Spoiled Bratty Kids Come In All Sizes
The show features spoiled teens of all race, nationality, and even sex - black, white, Persian, and even shockingly, a few teenage boys among the mostly teenage girls. The show follows the same template, tracing the excitement and expectation of throwing a "sky's the limit" 16th birthday bash. We get to know the teen as she brags about her wonderful lifestyle and how much she owns in the way of material possessions. The majority of these "daddy's little girls" stomp their feet and pout until their rich dads buy them the dream party that they want. The mothers that usually accompany these prissy little girls are no different - encouraging and stoking their behavior. In one episode, one mother even ended up trying on the same expensive dress that her daughter was trying out, sending the daughter into an angry and competitive tail spin tizzy of materialistic proportions.
The Excessive Lavishness Knows No Bounds
The show always starts with an elaborate ceremony usually complete with stretch limos and servants to hand out the official decorative invitations to chosen members of the teen's high school in a manner befitting a royal coronation. The party usually takes up an entire decked out ballroom, with servers, dancers, and show-stopping celebrity singers. $75,000 jewelry and dresses line their wardrobes, adding to the excessive opulence. Throughout each episode, the birthday girl's teenage guests scream and "woohoo" about the historical nature of the event and how it will go down in history as the best party ever and how everyone will always remember this - to the collective eye rolling of every single television viewer in the United States, myself included.
The end of each episode is never complete without the mandatory birthday girl walking outside with her guests in faux both-hands-to-the-cheek amazement at the ridiculously expensive luxury car awaiting her. While the girl drives away in her birthday present, her throng of friends and guests are left hollering and cheering her on with lavish love, admiration, and envy at her fortune.
It's Really Entertaining But Also Really Sad
The alarming thing is not that these teeny boppers expect to be thrown lavish over-the-top birthday parties, but it's that their wealthy parents are so boastful and encouraging of such a superficial lifestyle. The show proudly shows off the birthday teen's opulence and extravagance, seemingly suggesting that such actions are perfectly normal. There are never glimpses of the ordinary masses, as the birthday teen's friends and guests are almost always all filthy rich as well, with material throngs and possessions of their own. We never see any bitterness or ridicule by the guests or outside observers as the critics have all been effectively filtered out.
The show is admittedly quite entertaining, but not for necessarily the right reasons. It instills the wrong values in children and younger viewers today, particularly those approaching their 16th birthdays. Rather than preaching hard work and dedication, the show encourages feelings of material entitlement in the nature of "if you loved me you'd buy this for me".
However I must admit, My Super Sweet 16 is terribly funny and interesting to watch. But when I laugh at the foot stomping, pouty girls in the show, I am doing so in the same manner that I would while watching a celebrity train wreck such as the salacious paparazzi antics of Britney Spears or Paris Hilton. I laugh because it's so stupidly funny, but at the same time I feel sad for them - for the type of persons their own parents have groomed them into one day becoming.
As for my own 16th birthday way back when, I got an ice cream cake custom baked by my mom. I rented a few Nintendo games from Blockbuster, invited 4 close friends over for a video game sleepover party, and partied like a rock star at home. I grew up just fine, although getting a luxury sports car as a present would have been nice. :)