Low APR credit cards: Chase vs. Simmons
By Jeffrey Steele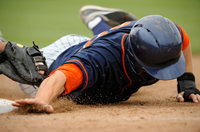 World Series of Credit Cards: Game 7
There are few sports events more thrilling or dramatic than the winner-takes-all seventh game of the Major League Baseball World Series. The same can be said for this Game 7 of the Money Blue Book World Series of Credit Cards. Winner takes all in this climactic locking of horns between two highly competitive low APR credit cards, the Chase Freedom Visa and the Simmons First Visa Platinum.
As we've done throughout this series, let's go strength by strength through each of these competitors' lineups, to determine which has the edge. And we'll begin, of course, with the low interest rates offered by each of these standout credit cards.
Purchase APR. With the Chase Freedom Visa, positioned as a worthy choice for those seeking a low interest rate credit card, you'll pay zero percent APR on purchases for 15 months. After the introductory period, the APR can be as low as 12.99 percent on purchases.
The Simmons First Visa Platinum, designed for those who want the benefits of a traditional credit card with the lowest possible APR, offers a variable APR of 7.25 percent on approval with excellent credit.
Balance transfer APR. The Chase Freedom Visa stands out among zero APR credit cards, with zero percent APR for 15 months on transfers made within the first 30 days. With the Simmons First Visa Platinum, there's a variable APR of 7.25 percent on balance transfers, with no balance transfer minimum amount.
Balance transfer fees. With the Chase Freedom Visa, you will incur a fee of either $5 or 3 percent of the amount of each balance transfer, whichever is greater. In the case of the Simmons First Visa Platinum, there are no balance transfer fees.
Cash advances. The Chase Freedom Visa charges a minimum 19.24 percent APR on cash advances based on creditworthiness. There's a cash advance fee of 3 percent, $10 minimum. With the Simmons First Visa Platinum, an 11.25 percent APR is levied on all cash advances and convenience checks. You'll pay a 3 percent fee (but not more than $50 or less than $4).
Rewards. The Chase Freedom Visa is also one of the best cash back rewards cards. You can earn $100 cash back by spending $500 in the first three months of card ownership. You earn 1 percent cash back on all eligible purchases. You can earn an additional 4 percent cash back on up to $1,500 spent on rotating categories like grocery stores, movie theaters and more.
. Keep in mind you have to sign up each inning, er, quarter, to earn rewards.
And with Chase Freedom Visa, you can earn up to an additional 10 percent cash back when shopping online with select merchants through Chase. Rewards points are redeemable for cash back. One point equals $0.01 cash back, so 2,000 points could result in you receiving a check for $20.
The Simmons First Visa Platinum's rewards program could not be simpler: the card doesn't offer one. But Simmons compensates for that by offering some of the lowest interest rates on the playing field to qualified applicants with excellent credit.
Annual membership fees. There are no annual membership fees with either the Chase Freedom Visa or the Simmons First Visa Platinum.
Foreign transaction fees. 3 percent for the Chase Freedom Visa, 2 percent for the Simmons First Visa Platinum.
Penalty fees and rates. You'll pay up to $35 per incident and up to 29.99 percent penalty APR on the Chase Freedom Visa, if you pay late, go over your credit limit, or bounce a check. Simmons penalty fees are a little easier, at $25 for late or returned payments, and there's no penalty APR.
Other perks.
Chase Freedom also offers memebership in Ultimate Rewards with such perks as the ability to book flights and hotels anywhere, anytime with no blackout dates and no restrictions.
The Simmons First Visa Platinum credit card can be used to obtain cash 24 hours a day from ATMs worldwide. In addition, all cardholders are covered with travel accident insurance. You can also benefit from car rental loss/damage waiver VISA auto rental insurance. Emergency cash and credit card replacement are additional benefits of this card.
Chase vs. Simmons - Final

Both cards have no annual fee. The Chase Freedom Visa could be your top pick if you qualify for its lowest rate of 12.99 percent APR and want the rewards perks and promotional APRs.
However, if you can live without rewards and just want the lowest APR possible, the Simmons First Visa Platinum outruns Chase in many other respects including no balance transfer fee, lower cash advance APRs and lower foreign transaction fees.
Which low APR card (or baseball team, for that matter) would you pick to win the World Series? Share your thoughts and experiences in the comments area below. And if your favorite doesn't win, remember what they say in Chicago: Wait until next year!
Jeffrey Steele is a Chicago-based writer who frequently writes on personal finance issues.