5 key credit card terms you should know
By Ryan Hurlbert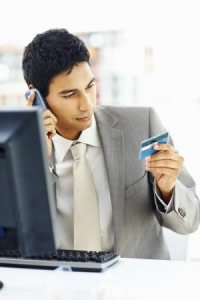 When I was starting out, a wallet full of credit cards was a sign of success--if you had five or six cards, you were obviously doing well. Like so many others, I got myself into a bit of a payment crunch; each minimum payment by itself was small, but when I lumped them all together each month, well, it was more than I had! I consolidated as many together as I could, took a second job, and paid, and paid, and paid.
Eventually, I paid everything off and now carry one general credit card and one gas card, although I have another account at a men's clothing store I use occasionally. In today's society, you can't buy anything on-line without one, can't rent a car without one, and try and find an airline that will let you write a check for a ticket!
It's easy to get caught up in the excitement of getting a credit card, and not read the terms. Luckily for you, the Credit Card Accountability, Responsibility, and Disclosure (CARD) Act of 2009 makes understanding your credit card easier than ever. Now, credit card companies have to post their disclosures on-line, and they have to be written in "plain English".
Now that understanding credit cards is made easier for you, here are five terms that you should be sure to understand when evaluating credit card offers:
Grace period. You have to have at least 21 days from the date the statement is mailed to the date the payment is due, but some card issuers give you a few extra days. If you pay off your balance every month, you will pay no interest charges. But if you leave any unpaid balance from the previous month, interest charges will accrue from the transaction date for the remaining balance, along with all new purchases, effectively eliminating the grace period. Balance transfers and cash advances are not subject to any grace periods.
Annual Percentage Rate (APR). Of course, the interest rate you are being charged is important, especially if you will carry a balance. Most credit cards use a variable interest rate. The APR you are charged is the prime rate plus an interest rate based on your credit history. There are several APRs listed in most credit card offers- a promo rate, transaction or "go to" rate, cash advance rate, and a default or penalty rate.
Promotional rate. Companies are constantly offering low-or-no-interest programs to entice you to sign up for their cards. Some offer the special rates on 0 balance transfer offers. With these cards, you can save a ton of money if you can pay off a balance without any interest charges. Late payments can eliminate your promotional rate however, so stay on top of your bill to make the most of the offer. The CARD act of 2009 stipulates that all promotional rate offers have to last at least six months.
"Go To" rate. Like all good things, introductory offers eventually come to an end. When the offer ends, your interest rate will increase to the "go to" rate. The "go to" rate is disclosed in your cardholder agreement as your regular transaction rate. Credit card companies are not required to notify you when this rate change takes place, so be sure to keep the date on your calendar.
Penalty APR. Make a late payment, and your interest rate could skyrocket. On top of losing your promotional rate, you can be charged a penalty rate. Be careful to read what the penalty interest rate is on your card, especially if you are the kind of person that occasionally forgets to send a payment in. The law states that your account has to be reviewed every six months to see if you can be returned to your previous rate, but each company has different requirements for getting out of the penalty rate.
Before you choose a credit card, go on-line and read their disclosures. Also, check out MoneyBlueBook's past credit card reviews--a few minutes of reading can help you find the credit card that best meets your needs.
Ryan Hurlbert lives and works in the Pacific Northwest. As an insurance agent, he produced and presented educational seminars on various topics from insurance basics to strategies for dealing with teen drivers. He has researched and produced marketing materials in the insurance, auto, and financial industries. Ryan majored in business and received his Bachelor of Science degree from Portland State University.