Published 11/5/13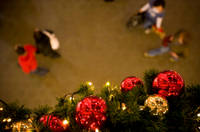 By Georgie Miller
It's still October as I write this, but the holiday onslaught at my day job has already begun with our annual Halloween potluck and gift exchange. Yes, you heard that right. We are expected to bring a "sweet treat" for our co-workers as well as a spooky gift for a white elephant-style exchange.
And it doesn't stop there. As December approaches, so does the Cookie Party, the End of Year Reception, and the White Elephant Exchange. And those are only the official work events. There is no shortage of other opportunities to socialize with co-workers this time of year, and unfortunately, this type of socializing can get expensive.
But it doesn't have to be! In some ways, holiday-themed parties and happy hours are like children's birthday parties. While many people's default setting may be "no expenses spared," there are ways to enjoy the company of your colleagues without spending a fortune.
1. Pick your

battles

parties
Your normal strategies for avoiding office spending may not work as well during the holidays, when people are expected to attend a variety of organized events. But remember that you're not obligated to attend everything.

Read the full article »