Tired of extravagant birthday parties? Fight back with frugality
By Holly Johnson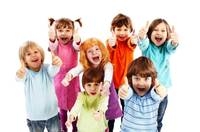 If you have school-aged kids, or younger, you've probably been invited to your share of birthday parties. And, the expectations seem to creep up every year. I've seen everything from fancy custom birthday cakes to specialized birthday attire for the birthday boy or girl. Some families even rent clowns or entertainers, ponies or miniature choo-choo trains. I've even been to a child's birthday party that was professionally catered. And, from the looks of the food we were served, it wasn't cheap!
Fortunately, over-the-top birthday parties like the ones I've described are not required. You don't have to spend a fortune, and you don't have to keep up with all of the popular birthday party trends. And, with some thoughtful planning, you can have a party that looks expensive, but isn't. Want to know how to save on your favorite girl or boy's birthday extravaganza? Follow these simple tips:
1. Make the cake
Even if you're not a whiz in the kitchen, you should be able to make a regular ol' Duncan Hines box cake. Take it a step further by decorating with colored icing, edible letters or sprinkles. Or, if you're feeling fancy, check out Pinterest for free or low-cost cake decorating ideas. It may not be a custom cake, and it may not be perfect, but you'll save a bundle if you can pull it off. And, it's doubtful that anyone will notice or care.
2. Skip the party favors
Well-meaning parents often hand out "grab bags" or party favors in order to thank those who showed up for their child's special day. However, this is one tradition that should go the way of the dinosaur. Inviting kids over to celebrate your child's birthday should never necessitate giving a gift. And, you could save some serious cash if you ignore this common tradition altogether. Instead of handing out party favors, take some time to personally thank everyone who attends.
3. Party for free
Children's birthday parties are often held at child-themed party centers across the country. And, although those parties are unique and fun, they're expensive! One great way to save on your child's party is to find a free place to host the event. Your home, for instance, is a great place for the party. That is, of course, if you have the room and are willing to let people track in and out of your home. Other great options include a public park, a low-cost public swimming pool or the home of a family member or friend.
4. Pursue frugal party activities
If you don't want to spring for a pony or clown, you'll need to come up with some frugal and fun activities for your guests. For a warm weather party, you could invite the kids to wear bathing suits and set up sprinklers and water balloon stations. Or, you could set up a scavenger hunt, leading the kids on a wild goose chase to find items and clues. In cold weather, you could have an indoor art party, allowing children to paint, make paper mache or create other arts and crafts. Or, if your child is old enough, host a good old-fashioned sleepover instead. Just make sure to have plenty of movies and snacks to keep the kids busy!
The cost of children's birthday parties has spiraled out of control in many circles. But there's one way to win the kid's birthday party competition: don't play. You don't have to compete or compare with anyone else, nor do you have to drain your savings account to throw a party that you'll eventually regret. Instead of going overboard, try cutting back instead. If your kids have food, games and their friends, they're going to have a great time no matter how much you spend.