Published 3/4/14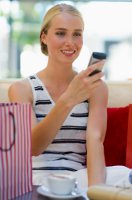 By Georgie Miller
I used to think that couponing was complicated. Buy the newspaper, sort the coupons, keep a binder, maintain a calendar of expiration dates. Extreme couponing may be fun for some people, but I found it frustrating.
Additionally, while there are amazing deals out there, they weren't necessarily for the items I wanted or needed. Fortunately, there are lots of couponing options these days. Here's my quick and easy process for saving money at the grocery store.
1. Pick a store
The first step is to pick a grocery store. Yes, different stores have different deals, so it's hard to get the best deal on everything in one place. However, it takes time (and gas money) to drive all over town, and for what? Ten cents off eggs? No thanks. I like to keep all my monthly spending on one credit card, and all my grocery shopping in the same store.
Read the full article »