Published 1/30/14 (Modified 1/31/14)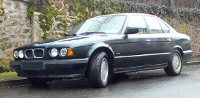 By Peter Andrew
Earlier this month I celebrated (admittedly, it was a low-key affair) my car's 19th birthday. When I bought it, nine years ago, a gear-head friend sniffily observed, "Oh, it's a BMW 520i. Bit basic and boring, but as long as you keep it topped up with oil and water, it'll go on forever."
And so it's proved. It gets routine servicing, and every few years I have to spend a couple of hundred dollars on replacing some part or other, but overall everything on it still works perfectly, and it delivers very cheap motoring. And it's now worth so little, I no longer suffer noticeable depreciation, nor have to bother with high insurance costs.
As you may have guessed by now, I'm fine with older cars. OK, if I won a huge lottery jackpot, I'd buy a whole fleet of brand new ones, but having one of the oldest vehicles in town doesn't bother me at all. However, there are plenty of circumstances when you (and even I) should know it's time to make a change. Here are five.
1. An embarrassing episode
If your teenage kids suddenly decide they want you to drop them off a couple of blocks from school, because they'd "enjoy the walk" (even though it's raining), you can be pretty sure you're seeing your car through rose-tinted spectacles. Maybe it's just not destined to become the classic you have in your mind's eye. Maybe it would look positively better as a cube of mangled metal after a scrapyard remodeling.
Read the full article »