Published 11/8/13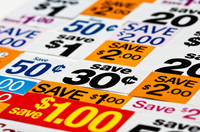 By Justin Boyle
It's always been a dorky thrill of mine to find small ways to save money. Over the last several years, I've developed a workable strategy for frugal living that decreases my everyday costs, but allows me to maintain a perfectly agreeable quality of life.
Along the way, though, I've taken a few suggestions from like-minded folks that have turned out to be less helpful than they sounded at first. Here are three myths on frugality that people should really stop spreading.
1. Generic electronics are no different from name brands
Although it's true for the most part at the grocery store and pharmacy, the phenomenon of near-identical generics doesn't stretch into all walks of life. Take phone chargers, for example: Internal electronic components that are poorly assembled or source their parts from unlicensed manufacturers can cause voltage spikes and fry the delicate sensors on your handset. Not only that, electronics blogger Ken Shirriff reports that unlicensed power adapters may deliver less than half of their advertised wattage output and produce "dirty" electricity with an extremely bad signal-to-noise ratio.
Read the full article »