Published 10/16/13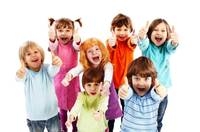 By Holly Johnson
If you have school-aged kids, or younger, you've probably been invited to your share of birthday parties. And, the expectations seem to creep up every year. I've seen everything from fancy custom birthday cakes to specialized birthday attire for the birthday boy or girl. Some families even rent clowns or entertainers, ponies or miniature choo-choo trains. I've even been to a child's birthday party that was professionally catered. And, from the looks of the food we were served, it wasn't cheap!
Fortunately, over-the-top birthday parties like the ones I've described are not required. You don't have to spend a fortune, and you don't have to keep up with all of the popular birthday party trends. And, with some thoughtful planning, you can have a party that looks expensive, but isn't. Want to know how to save on your favorite girl or boy's birthday extravaganza? Follow these simple tips:
1. Make the cake
Even if you're not a whiz in the kitchen, you should be able to make a regular ol' Duncan Hines box cake. Take it a step further by decorating with colored icing, edible letters or sprinkles. Or, if you're feeling fancy, check out Pinterest for free or low-cost cake decorating ideas.
Read the full article »