3 oft-overlooked ways to add savings
By Jeffrey Steele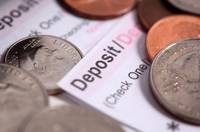 Though much of my life, I've had a reputation as a tight-fisted, penny-pinching pinchpenny. "The cheapest guy I ever met," is how one friend of 30 years refers to me, with just a hint of a smile crinkling her face.
Am I bothered by my reputation as an abstemious tightwad? Not a whit. I see it as evidence of my other reputation as a true rebel. In a society where the Great Marketing Machine informs us we are to spend every cent we have (and even some we don't) on items to help us keep up with the Joneses, I enjoy my standing as a non-conformist who marches to his own personal finance drummer.
Among ways I pinch pennies are three oft-overlooked approaches to economizing and building a savings account. I recommend them, having profited from each.
1. Coupon books
Thanks to Groupon and similar businesses, we've all become aware of deal-of-the-day coupons. For some of us, coupons have been a way of life for longer than many Groupon users have been alive.
At Christmas 1979, my sister festooned an Entertainment '80 coupon book in festive holiday wrap and put it under the tree for me. That was the last time she had to. From then on, I popped for each year's edition myself, saving way more than the cost of the books on restaurant meals, sporting events, movies, rental cars, hotels and vacation expenses. With a few months left before it expires, this year's Entertainment book has scads of unused coupons, some sure to be my passports to savings at places I might never have checked out otherwise.
2. Donate blood
Blood donation is the gift of life, and one I heartily endorse for the great good it does one's community. In my state and a good many others, the blood donation organization's system recognizes each donation provided with a certain number of points.
It awards gift cards when a given number of points are accumulated. Many donors accept the cards as a token of thanks. Others believe they shouldn't be paid for blood and donate them right back. Me? I do both on occasion.
3. Rent out something
Many people I know rent out rooms in their homes. They not only reap rent, but great stories about their tenants. If you don't want to share your home, try renting out something else, from tools to maybe a vacation cabin. For me, that something is the parking space that comes with my condo. It makes me some extra cash, and doesn't add one iota of inconvenience to my life.
Funny thing: The friend who calls me "the cheapest guy she's ever met" forgets that line when, in mid-February each year, I treat her to a nice birthday dinner -- sans coupons.
Jeffrey Steele is a Chicago-based writer who frequently writes on personal finance topics.