Thinking of Having a Baby? Reserve That Domain Name Before It's Too Late
Published 10/3/07 (Modified 3/9/11)
By MoneyBlueBook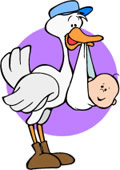 The newest trend among expecting parents is to choose a name for their kid that hasn't yet been registered as a domain. Parents today want to give their children a head start by jump starting their future digital identity as early as possible. These days with prices of domain registration falling to only $9 a year, it is very easy to run a quick domain availability search and reserve it before someone else does. Some older parents might not see the wisdom of having your own custom domain, but I assure you, your future tech savvy children will thank you for having the foresight.
Celebrities Think Ahead
Just look at actress Angelina Jolie. When she and Brad Pitt had their baby daughter Shiloh Nouvel last year, Angelina immediately reserved over 24 variations of her daughter's name. Internet registration files show the web addresses "shilohjolie," "shilohpitt," "shilohjoliepitt," "shilohnouveljolie," "shilohnouvelpitt" and "shilohnouveljoliepitt" - with the extensions ".com," ".org," ".net" and ".info" - were all reserved as of May 27, 2006 the baby's birthday.
Domains I Would Have Wanted Have Already Been Taken
I wish the internet was around during my parent's time, but then again, I doubt they would have had the technological foresight to reserve my name. Unfortunately, my full name, and its myriad of combinations have all already been taken by others. This is also true for popular e-mail services such as Yahoo Mail and Gmail. Simple and common names just as mine have already been taken. The only choice left is my name followed by an awkward string of random numbers and letters.
One day your child will grow up and may want to start up his or her own firm. Maybe they'll even want to be a blogger. But alas, by then, it is highly unlikely that their preferred domain name will still be around, particularly if they want an address that ends in the popular ".com" I wish I had acted sooner. A few years ago, my own name was still available as a domain, but I delayed, and now it's gone, leaving me feeling a bit bummed out.
However, with the rapid pace that the internet is growing at, it is also unlikely that years from now we will still be using the same technology. Perhaps domain names will be obsolete by then and a whole new internet system will have developed. But just in case, I would still go ahead and reserve those baby domain names.
I have been having server issues with my current provider Host Monster, so I'd recommend registering with a more reliable web host provider such as DreamHost or Go Daddy. For those who are concerned about privacy, most domain registration sites also offer anonymous hosting.