Tempting? Sure, but store credit cards are rarely a good deal
By Jim Sloan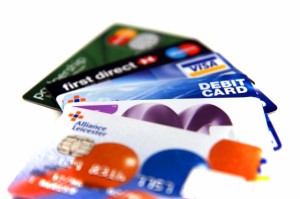 It was Christmas time, and I was going through the checkout of a large chain department store with a shopping cart full of stuff. I was spending far more than I normally would, so when the cashier asked if I was interested in saving 10 percent right on the spot by simply applying for a store credit card, I shrugged and quickly agreed.
Six months later, when I finally crawled out from under the suffocating 25 percent interest rate charged against the balance on that card, I vowed to never again get a store credit card. Not only did I sign up without reading the fine print--always a mistake in the credit card business--but I also didn't count on only being able to use the card for just that one chain.
Little did I know that there were other reasons to avoid store credit cards in favor of something better like a rewards credit card or a 0 balance transfer card. So I did a little poking around and found three other big reasons to just say no to that kindly cashier's offer for a store credit card. Here goes:
1. Your credit score may suffer

According to Reuters, just opening a store brand card will lower your credit card 60 points, which is a pretty big dent and could damage your chances if you happen to also be applying for a car loan or mortgage. If you apply for a lot of store cards in a short period of time, you could find it difficult to get any kind of credit in the future. People who are disciplined and pay off their store-card balance every month or transfer the balance to zero interest credit cards can actually improve their score, however. In that case, you'll want to look for a no balance transfer fee credit card or other balance transfer offers.
2. Interest rates are through the roof
Although stores use their branded cards to build customer loyalty and get you coming back again and again to use your line of credit, they don't treat you like a friend with their interest rates. A study released last year by Rep. Anthony Weiner of New York warned that some store cards charge nearly twice as much interest as the average credit card.
The leader of the pack in Weiner's study was Radio Shack, with an average interest rate of 28.99 percent. Overall, Weiner said, the average interest rate for cards from the 35 stores he examined was 23.88 percent--nine points higher than the average bank credit card rate and a far cry from the zero interest credit cards that are on the market.
3. Fewer benefits
Other than giving you quick approval and an initial discount, store credit cards don't stack up well against traditional credit cards, which offer such things as rewards, extended warranties, price protection and car rental insurance. You're better off applying for the best rewards credit card you can find.
Store cards, more often than not, can only be used in the store whose logo appears on the face. That means you can't really shop around for the best deal by comparing the prices offered by a competitor, unless you want to have a bunch of store cards.
There are some advantages
Despite all these drawbacks, if you decide to get a store credit card, you can beat the stores at their own game by following these tips:
Pay off the balance every month. Carrying a balance forward means a hefty interest charge, so try to avoid it. You can also move the balance to a zero percent balance transfer card and pay the balance off more cheaply.
Only take out a card when you're making a big purchase. A 20 percent discount when you're buying, say, a sectional sofa from Macy's can be a big savings. I took out a Home Depot card when I needed expensive new sliding patio doors. In addition to the discount, I wasn't charged interest for the first year and was able to pay the balance off in that time.
If you've decided to say "no" to store cards, but are still itching to get a credit card, take a look at our lists for the best rewards credit cards and the best 0 apr credit cards. You might get some rewards and you'll be free to shop at many stores instead of one.
Jim Sloan is a freelance writer in Reno, Nev.