Published 6/4/14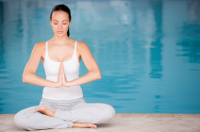 By Georgie Miller
I love yoga, so when I think of the word flexible I tend to think of some of the asanas I can't do (but aspire to!). However, there's more to flexibility than limber muscles. Flexibility is also one of the key concepts in personal finance.
Ideally, your financial flexibility should allow you to handle any money-related issue that comes your way with a minimum of panic or missed payments. Just how can you accomplish this? Begin with these simple steps.
1. Start an emergency fund
No, a credit card is not an emergency fund. While zero percent credit card offers may be a good idea for balance transfers and debt payoff, adding to your debt load is never a good strategy. By starting an emergency fund while times are good, the money will be there when disaster strikes. You want the funds to be accessible in case you need them. However, you probably don't want them to be too accessible or you'll be tempted to spend the money on something frivolous.
Read the full article »