How to fix a broken savings strategy
By Peter Andrew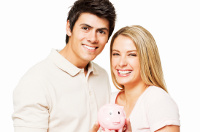 The only thing that stands between me and my being a good saver is my inability to differentiate between things I want and things I need. Show me something that it would be nice to have, and I'll show you the spectacular display of mental gymnastics necessary to turn that object of desire into a necessity. It's not that I'm a noticeably stupid person in most respects. It's just that my brain seems to have a blind spot when it comes to impulse control.
Either that or I'm too stupid to recognize my own stupidity. Looking around though, it appears I'm not alone in having impulse control issues when it comes to spending.
Most Americans financially unhealthy
Fifty-seven percent of adults in this country say they struggle financially, and 43 percent of U.S. households find simply keeping up with bills and finance payments a real challenge. Those numbers come from a new study from the Center for Financial Services Innovation (CFSI), which seeks to better understand people's "financial health," something it defines as occurring "when an individual's daily financial system functions well and increases the likelihood of financial resilience and opportunity."
Two other figures from the study show just how important savings are to achieving such health:
Those who plan ahead for big, irregular expenses (auto repairs, essential appliance replacements, unexpected pharmacy bills ... you've probably had one in the last 12 months or so) are 10 times more likely to be in good financial health than those who don't.
Those who have a regular savings habit are four times more likely to be in the healthy group.
Your personal health plan
To carry through the CFSI's health metaphor, maintaining an emergency fund and having a planned savings habit are the financial equivalents of quitting smoking, drinking and overeating and taking up regular exercise. And yet a survey conducted by The Pew Charitable Trusts in February found one in three households reporting zero savings.
Finding the best savings account rate is often a good first step to getting into better financial shape. But it's the equivalent of taking out gym membership or buying jogging shoes: essential preparation that is useless on its own. What's needed is a plan, complete with realistic goals.
Earlier this year, America Saves published a survey (does anyone in the U.S. do anything other than answer pollsters' questions about their saving habits?) that revealed the importance of having this type of goal-oriented plan. Fifty-seven percent of respondents who said they had a plan reported making good or excellent progress toward meeting their savings needs, compared with 22 percent of those who had no plan. Eight-two percent of planners claimed they had a sufficiently large emergency fund compared with 48 percent of the plan-less savers.
No excuses
That America Save (motto: "Start Small. Think Big.") survey found precisely what you'd expect it to find: that the more money you have, the easier it is to save. Of those with annual incomes of more than $100,000, 87 percent said they spent less than their income and saved the rest, while only 75 percent of those in the $25,000-$50,000 bracket and 54 percent of those earning less than $25,000 made the same claim.

But, of course, it's those who are on the lowest incomes who are most vulnerable to unexpected emergencies. They're the ones who are least likely to be approved for a low-interest personal loan or a zero-interest credit card, and are most likely to be forced to turn to a car title loan or a payday lender.
While it may not be true that absolutely everyone can save, even people on very low incomes usually have occasional indulgences they could choose to deny themselves. This may sound tough, but it's a whole lot better than falling into the hands of a predatory lender, and, once an emergency fund is in place and only needs maintaining, it may be possible to re-introduce the occasional luxury.
Setting sensible goals
Once you've trawled through the high-interest savings accounts on offer, and have chosen and opened one, it's time to set your personal savings goals, which must be very closely tied to your current income and fixed outgoings:
I'm going to try to save $x a week/month.
I might not manage that every single week/month, but I want to have a balance of $y this time next year.
To feel reasonably protected against unexpected expenses, sickness and bouts of unemployment, I need an emergency fund of $z, and I'd like to have that in place in a months. (That a is likely to be a big number. For most, it could be some years.)
Think of these financial fitness goals as you would physical fitness ones. Providing you continue to try to do your best, don't beat yourself up if you occasionally have no choice but to fail. And keep adjusting them in the face of reality: Increase them if you're meeting them too easily, and reduce them if the ones you first set prove truly unattainable.
One goal you can certainly achieve is to be better at this saving business than I am. But even I, with my disastrous financial history, have in recent years created a good-sized emergency fund. And I can't tell you how much better I sleep with that cushion.
Peter Andrew has over 25 years of experience writing about marketing, advertising and management. He regularly covers consumer credit card topics for IndexCreditCards.com and other personal finance publications including Fox Business, TheStreet and MSN Money. He also writes frequently about mortgages and auto loans. Peter has spent extended periods living overseas, in the UK, France and Africa. He lives with his partner of 20+ years, and wastes too much of his time on cryptic crosswords.