Published 12/5/13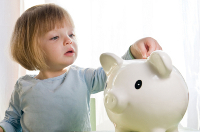 By Georgie Miller
The holidays are fun and all, but considering how early we get bombarded with festive opportunities to spend (or save), for me they feel like they're over before they've even begun. What I really look forward to is the new year. Opportunity! Resolutions! Plans that haven't been screwed up yet! Sign me up!
Before you can reliably make plans for the future, however, it's important to know where you've been. So every year about this time, I like to conduct a little mini-review of my previous year's spending. Conducting an annual financial check-up can help you determine whether your goals are a reliable reflection of your life.
You should have two main goals in mind when you conduct your mini-review. Your first goal is to be as prepared as possible for those curveballs life inevitably throws your way. The second is to make sure the methods you use to pay for everyday spending are getting you the best bang for your buck.
Goal 1: Be prepared for irregular expenses
Irregular expenses fall into two main categories. The first type are those that are are predictable, but don't happen monthly.
Read the full article »