MoneyRates.com reveals banks that pay top interest rates
By Jim Sloan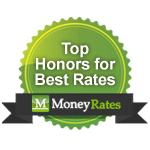 Let's face it: Interest rates for savings accounts are dismally low these days. You have to work pretty hard to find a bank paying more than 1 percent, and even then you don't know how long the best online savings account or high interest savings account will remain at the top.
MoneyRates.com has taken the legwork out of finding the best high interest savings for you with a recent analysis of approximately 100 banks to determine which ones provide the most consistently high yield savings and money market accounts.
Top 10 banks for savings accounts

The website does this quarterly by measuring the average rates offered by banks over each day of the three-month period to calculate the best high-yield savings account offered over the long haul. You can use this information to put your money in a high interest savings account that has a history of being consistently high.
For instance, even though the Federal Deposit Insurance Corporation recently reported that interest rates nationally averaged an abysmal 0.15 percent, the MoneyRates.com analysis found seven banks offering high interest savings above 1.00 percent in the first quarter of 2011. That list was headed by American Express Bank at 1.269 percent and was followed by Discover Bank at 1.224 percent and Capital One Bank at 1.221 percent.
Another measure of the consistency of this group of banks was the fact that 8 of the 10 were in the top 10 for the last quarter of 2010. And most of these banks don't change their rates based on the size of the deposit; smaller accounts receive the same percentages as the larger ones.
Banks with great money market rates
As far as the best money market accounts were concerned, the top 10 from the last quarter of 2010 made the top 10 for the first quarter this year, although the order was shuffled somewhat. The top bank on the money market account list was OneWestBank at 1.100 percent, followed by Discover Bank at 1.079 percent and Ally Bank at 1.070 percent.
While these interest rates really don't compare to the 5 percent paid in years past, many of us remain keenly interested in knowing where the top interest is being paid. That's because Americans in general are saving more. According to a February 2011 survey by the Consumer Federation of America, the percentage of Americans with some kind of savings account increased from 41 percent in 2010 to 44 percent in 2011.
Americans saving more

In fact, Americans in general are saving three times as much as they were prior to the recession. At the end of 2010, the savings rate was 5.3 percent. Although Americans over the last 50 years have saved at a 7 percent rate, an increasing number of people are seeing the need to save for a "rainy day" by setting aside an emergency fund equal to three to six months of their regular living expense.
According to the Credit Union National Association, savings have increased more than 13 percent in 2011, to an average of 6 percent in the first two months of 2011.
When you are saving that much, it's nice to have someone find out for you which banks are consistently paying the best interest rates.
According to the New York Times Your Money blogger Ron Lieber, it pays to find the best-paying interest rate for your savings because that money we're putting away is having trouble keeping up with inflation for such things as health care costs.
Banks aren't paying higher interest rates on savings because their deposits are up and the demand for loans is down, making it difficult for the banks to make money off your stored wealth. Credit unions are limited in the interest they can pay because their customers are also borrowers, and they like their loans to be low interest, Lieber says.
Jim Sloan is a freelance writer in Reno, Nev.