Reward yourself with a rewards checking account!
By Jim Sloan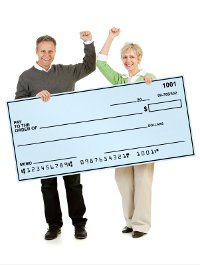 Although the interest rates banks are paying these days are painfully low, students and others just out of college should consider opening a rewards checking account. Rewards checking accounts offer some of the highest rates around, and the little extra you can earn in interest with one of these accounts can go a long way when you're just starting out.
Rewards and returns
Rewards checking accounts pay interest on your balances up to a certain level but require that you meet certain levels of account activity.
According to USA Today, rewards checking accounts are often a better investment than certificates of deposit, which lock up your money for a set term. Also, these checking accounts often give you better access to your cash than even the best savings accounts or money market accounts. Interest checking accounts provide an incentive to save and are a great way to get established and handle most of your day-to-day financial needs.
Good interest checking accounts can be found with many of the best online banks. But in addition there are often excellent interest rates paid for rewards checking accounts with smaller local banks and credit unions.
Terms to be aware of when comparing rewards checking accounts

One of the best checking offers available these days comes from Consumers Credit Union in Illinois, which pays the high annual percentage yield (APY) of 4.09 percent on deposits. But like most rewards checking accounts, it comes with conditions that are typical of many rewards checking accounts. For instance:
You only get the 4.09 percent APY on deposits up to $9,999; anything over that, and the rate drops to 1.59 percent. Although Consumer Credit Union's interest rate is high, the maximum amount earning that rate is relatively low. According to the Credit Union National Association (CUNA), the cap on high-yield checking balances is usually around $25,000.
You must make at least 12 debit card transactions per month. Banks make a small amount of money every time you use your card, so these transactions ensure income for the bank.
You must make one direct deposit, ACH debit payment or one online bill payment per month. Banks like direct deposit because that means the account is more likely to be your primary account.
You can only get electronic monthly statements and not paper statements.
The requirements for interest checking vary, so make sure you are familiar with them. You may have to learn to use a debit card for some purchases that you previously made with cash, but most requirements likely will fit in with your existing banking habits.
The advantage of credit unions
So where can you get a high interest rewards checking account?

According to foxbusiness.com, the highest interest rates for checking accounts are typically available at credit unions because they are nonprofits and don't have to charge as much as most banks.
Credit union membership requirements are usually fairly easy to meet, but membership can be restricted by area.
A moving target
The APY and requirements for rewards checking accounts vary widely by the market they're offered in. Rewards checking offers are determined in part by how much people in general are depositing and how many loans a bank is making; if deposits are up and loan demand is down--as is the case these days--it will be harder to find a high-yield offer for rewards checking.
Student shoppers
As a student or recent graduate looking, it's best to shop around in your own geographical area to find the best deal on a rewards checking account. There might be some great deals out there, such as the credit union in Texas that offered 4.51 percent APY on rewards checking--but only for residents of one county. The available number of nationally available rewards checking accounts is typically very small.
So take your time and do your research to lay a good financial foundation for your future.
Jim Sloan is a freelance writer in Reno, Nev.