Make Very Affordable International Phone Calls With InternetCalls.com
Published 12/2/07 (Modified 3/9/11)
By MoneyBlueBook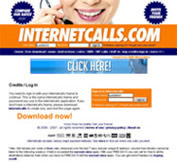 I've written about trying to find ways to make free or cheap international phone calls to landlines in the past. There are numerous voice over IP services that allow users to make free PC to PC calls, but it's hard to find cheap and affordable ways to dial international landlines. After much searching, I think I've found an interesting lead. The service is called InternetCalls. It's not 100% free but it's very affordable, that is, if the terms stay the way they currently are. The site looks promising but I don't want to get my hopes up just yet. By the way, I'm not getting anything for plugging them.
Its Marketing Touts Its Free Features, But It's Not Really 100% Free
Like many of these voice over IP services, the company attempts to advertise and promote itself as a free internet phone provider. It does offer a 1 hour calling trial period (that times out every few minutes), but after that you'll have to pay a small periodic fee to continue using their service. The free calling plan is currently limited to only a select group of countries.
In order to make free phone calls you'll need to top off your account by making a small monetary deposit which can be done via payment methods like PayPal and credit cards. The credit deposit remains unused so long as you make your calls to free destinations. Each credit addition is 10 Euros, which is about $15 and needs to be replenished every 4 months. Essentially you are paying $15 every 4 months for free international calls ($45 a year), which is a pretty excellent deal. You are capped at 300 free calling minutes every week (7 days) but unless you make extremely frequent international calls, you are unlikely to use them up.
Currently, free calls can only be made to the following countries:
Argentina, Australia, Austria, Belgium, Canada, Denmark, France, Germany, Gibraltar, Hong Kong (+mobile), Ireland, Italy, Luxembourg, Malaysia, Netherlands, New Zealand, Norway, Poland, Puerto Rico (mobile), Russian Federation, Singapore, South Korea, Spain, Sweden, Switzerland, Taiwan, United Kingdom, and United States (+mobile).
How Do You Get Started?
Setting up is pretty straight forward. You visit their website at InternetCalls.com and download their dialer program. The company indicates that no spyware is included and so far I haven't discovered any, which is good because I hate spam and spyware. Their program is fairly self explanatory and you'll use it to dial all of your calls from the computer.
My Thoughts and Review
Initially I was very suspicious because I noticed the company offered the same application through more than one domain. But after a little digging around I discovered that the German parent company, BetaMax, merely marketed the same phone calling program under different brands and was otherwise on the up and up. The other website names include InternetCalls.com, VoIPBuster.com, Netappel.com, VoIPCheap.com, VoIPStunt.com, VoIPDiscount.com, and FreeCall.com.
As for the call quality, voice and sound appeared to be clear without much distortion, relatively similar to that of Skype. I would certainly recommend the program since I haven't seen any other program offering such low rates for nearly unlimited calling, but I still hesitate to endorse it fully. But so far so good. If you stick with calling countries listed on its free calling list, you only need to pay about $45 per year. That's cheap!
But I have doubts whether the company will survive and be around forever. These companies have a tendency to come and go quickly. But for now, if you make frequent international calls, it's definitely worth a try.