I Wish I Could Make Money From Fantasy Football and Other Fun Hobbies
Published 12/24/07 (Modified 3/9/11)
By MoneyBlueBook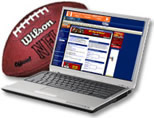 I am the type of person who likes to maximize everything that I do. Particularly when it comes to hobbies and interests, I always want to think - how can I find a way to monetize or turn the hobby into a beneficial endeavor? Not that I have to profit from everything, but I just have a very entrepreneurial and "see the bigger picture" personality. However, there are some things that I just can't seem to spin into a financially worthwhile venture - research intensive, but addictive hobbies like fantasy football. For the last few fall and winter seasons, I've been embroiled in the fun of online fantasy football. I've been the league commissioner for my church league for several years now and this is the first year where Ive made it to the final championship game. I'm so excited!
What Is Online Fantasy Football?
If you don't know what fantasy football is, allow me to explain. First of all, it's not some silly "fantasy" thing where people pretend to be in the game like some of my female friends jokingly think it is. I think people who aren't into fantasy football or other online fantasy sports see it as a childish game, but in fact, most of the online fantasy sports leagues are played by adults.
Football football is generally an online game played by participants (called owners) arranged into online leagues. Usually there is a draft at the beginning of the sports season where owners acquire players on their team comprised of real life NFL football players for preset football team positions based on their league's setup. Each week, owners are matched up with other owners, usually head to head, where they compete for the most total points, derived from their roster's actual player statistics for that week. For example, if I own the New England Patriot's Tom Brady as my quarterback and he scores 300 yards passing with 3 touchdown scores for that weak, I'll earn points for his on field statistical performance for that week. Owners can trade players with other owners and can pick up unused players from the league's online waiver pool. Eventually, the owners whose teams have the most points compete in a playoff series to determine the champion at the end of the football season.
Although I Can't Monetize Fantasy Football, I Still Enjoy It Immensely

But the fact remains that fantasy football is a fun hobby that consumes a lot of time and research energy. I spend a great deal of spare time researching players and following their on the field performance and statistical progression. It's sort of like the same way I track my financial investments but instead of stocks, bonds, and funds, I'm following the stats of quarterbacks, touchdowns, and interceptions.
Some online public leagues offer cash and reward prizes for the best overall fantasy football teams, but some require buy-ins and upfront fees, while others border on more shady sports betting. Perhaps some things in life are better left as simple as they are. Although I make nothing from all of the time I spend on fantasy football, I still love and enjoy the time and competitive spirit I put into it. Some people like to pass the time by playing videos games or even knitting. I have my fantasy sports!
By the way, if you're curious, here's my awesome Yahoo Fantasy Football roster this year. Note: I ultimately placed 2nd overall out of 12 teams.