Knock-Offs: How to Spot a Fake Lacoste and Other Imitation Clothing
Published 12/18/07 (Modified 6/17/11)
By MoneyBlueBook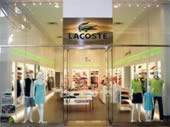 I went to gradate school in the run down city of Baltimore, Maryland. I used to joke with my friends that more people in Baltimore City owned and carried around designer Louis Vuitton handbags than in any other city in the world. When I went to school there it seemed like every corner near the city courthouse had a vendor hawking fake designer brand products like Prada, Coach, and even Polo Ralph Lauren. Most of the merchandise were no doubt fakes - cheaply made knock offs made in countries like China, a country known for its lax efforts in stopping piracy in the marketplace.
I want to focus my analysis on the Lacoste designer clothing brand line. Companies like Lacoste spend a great deal of investment on brand building and quality control. However, with the prevalence of overseas sweatshops and people buying Lacoste clothing online, fake knockoffs have been spreading through the internet marketplace like wildfire and many buyers are unwittingly ending up with fakes. While a genuine Lacoste polo shirt can cost an average of $60-75 per shirt, buyers of fakes are frequently getting ripped off for shoddy products worth substantially less. Whether it makes any sense to pay so much for a mere polo shirt is another matter. The fact is, buyers have to be able to ensure they are getting the high end quality product they are paying top dollar for.
Unlike authentic Lacoste clothing, fakes and knock offs simply don't wear and feel like the real thing. Sometimes it's easy to spot the fake, but sometimes the differences are much more subtle. It's easy to know it's a fake when you are only paying $10 for a supposedly genuine Lacoste shirt off a street vendor, but what about when you are buying online? Many of the tips and telltale signs provided below can also be used for other designer clothing brands as well.
Here Are Some Of The Things To Look Out For To Determine Whether A Lacoste Shirt Is A Genuine Or Fake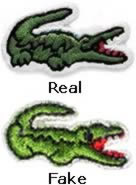 1) The Lacoste Crocodile Patch - Lacoste's famous trademark symbol is its Lacoste crocodile logo patch. This is one of the easiest way to spot a fake. A genuine Lacoste crocodile should be very distinct and should show scales, claws, and teeth. Any variation from this detailed standard should be deemed a fake, as high end designer brands like Lacoste spend a great deal of effort to ensure quality and uniformity. For the men's polo shirts, the crocodile is embroidered on a patch then sewn onto the shirt, rather than printed directly on the shirt. In the women's, it is printed onto the shirt. The Lacoste crocodile symbol should be attached seamlessly with no obvious white stitch marks attaching the patch to the shirt.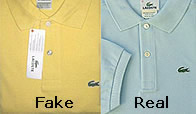 2) Crocodile Alignment - On men's polos, the crocodile is on the left hand side, between the bottom stitching and the second button. In the image displayed, I want to draw your attention to the genuine blue Lacoste shirt on the right hand side labeled "Real" - notice how the crocodile logo is aligned directly between the lower button and the bottom stitching. This is an authentic shirt. Contrast that with the pirated yellow shirt on the left side labeled "Fake" where the logo is instead aligned with the bottom placket stitching. This is one of the easiest way to tell a fake from a real one.
3) Pearl Buttons - Genuine Lacoste polo shirts have real pearl buttons, known as mother of pearl. Since the pearls are naturally found, no two patterns should be the same. Fakes usually have mass produced plastic buttons. The real Lacoste buttons should not have anything printed on them either. If they have the word "Lacoste" on the button, the shirt is a fake.
4) Unusually Low Cost - Lacoste is a high end, fairly expensive designer brand. As such, prices are usually high and for good reason since the products are usually of very high quality design and material. Prices are usually around $60-72 for a single polo shirt. If you discover prices that are extraordinarily different, you are most likely dealing with a fake. If you are only paying $10 for the shirt, your alarm and antennae should be going off.
5) Cloth Material - Genuine Lacoste clothing should be made of 100% soft cotton and neatly threaded. There should be little to no loose threading as is frequently found on shoddy and inferior knockoffs. The cuffs on the sleeves should not appear shredded and the stitching should not come loose only after a few washes.
6) Sizes - Lacoste clothing are sized using numbers, rather than the usual letters or words, e.g. sizes 3, 4 , 5. They do not come in sizes utilizing the words "small", "medium", or "large".
7) Method of Sale and Purchase - Many eBay sellers will insist and claim that their Lacoste products are real and authentic, but 90% of them are either wrong or lying. Unfortunately, even by checking their feedbacks isn't necessarily sufficient to protect you from fakes since many buyers themselves cannot readily distinguish the fakes from the real thing until it is too late. Lacoste does not have factory discount outlets, but sells its products through select distributors at premium prices. Be careful if you decide to buy through an online auction or through an amateur supplier based in Asia as many are the works of scam artists. I highly advise against buying from such shady sources and recommend sticking with more reputable and established shops.
Where To Buy Genuine Lacoste Polo, and Other Luxury Brand Clothing Products:
The best and most reliable source for genuine Lacoste products is from an actual Lacoste branded store or from a major department store retailer like Macy's, Nordstrom's, Bloomingdale's, or Neiman Marcus. From any other place like eBay, Craigslist, or some street side China Town type vendor - you're just asking for trouble so please be careful! Those type of deals will appear to be substantially cheaper, but remember, you get what you pay for.