GMAC Bank Is Now Ally Bank
Published 6/2/09 (Modified 3/22/11)
By MoneyBlueBook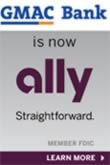 News Update: Is the New Financial Face Of GMAC Bank

As of mid-May 2009, GMAC Bank is now officially called Ally Bank. With a new aggressive marketing blitz on cable TV channels and via Internet ads, the new purple themed Ally Bank is embarking on a quest to rebrand its image and change the public's perception of its former beleaguered self. Touting the new banking persona as a new and better type of bank - an ally and friend to consumer customers of sorts, AllyBank.com's new banking slogan is - "No minimum deposits. No monthly fees. No minimum balance. No sneaky disclaimers."
Sporting a very impressive array of high yield savings accounts, money market accounts, and high interest CD rates, Ally Bank is hoping to win the public over with its dazzling new message and cache of revamped services. Looking back at its history, the bank formerly known as GMAC Bank has certainly had quite a rough and tumultuous ride to get to where it is today.
Ally Bank - Starting Anew With A Fresh New Name and Top Tier Rates
For those not in the know, Ally Bank used to be GMAC Bank, a bank built on the troubled and rather shaky foundations of GMAC Financial Services - the banking, savings, and financial lending arm of currently bankrupt American vehicle manufacturer General Motors (GM). Originally established as a lending authority to provide automotive financing loans to car buyers and auto dealerships of GM brand vehicles, GMAC has been hit particularly hard by the housing crisis and subprime mortgage meltdown. The resulting economic recession, coupled with surging unemployment rates and the collapse of consumer spending, which in turn has had a significantly negative impact on automobile purchases - have all severely hit the company's bottom line, pushing it to the abysmal financial brink.
On the verge of collapse, GMAC Financial was one of many financial institutions that ultimately converted itself from a loan issuer and servicer into a new bank holding company (dubbed GMAC Bank) to make itself eligible for the federal government's infamous taxpayer-funded Troubled Asset Relief Program (also known as TARP). But saddled under the burden of its toxic cache of bad lending decisions and struggling under the weight of its subprime home mortgage loans, not to mention the operational losses of billions of dollars, the converted GMAC Bank has since embarked on a rather valiant but desperate quest to save itself by building a new reputation as a legitimate deposit institution. To start anew and completely re-design its banking image, in the middle of May 2009, GMAC Bank dropped its own namesake moniker from its brand, officially changing its name to Ally Bank in order to shed the reputational baggage of its former connections. Only time will tell whether the newly minted Ally Bank's ambitious plans will prosper and succeed.
For now at least, Ally Bank remains one of the top online banks in terms of offering the best high interest savings account deals and high yield CD rate offers - pretty much continuing where GMAC bank left off. Despite its troubles, GMAC had always offered top interest rates for its banking products - and Ally Bank appears to be no different in this positive regard. Due mostly to its ambitious plans to establish itself as a leading and reputable provider of high interest banking products, if I had to project - I would wager that Ally Bank rates will likely stay perpetually high for quite some time. In terms of motivation to keep existing rates at their highest market peaks, Ally Bank's shaky past actually works in the favor of prospective consumers. Desperate to capture the attention of skeptical new customers and convince them into becoming loyal bank depositors, Ally Bank is likely going to have to keep its interest rates high to achieve its lofty new business acquisition and retention goals.
Ally Bank.com's New and Impressive High Interest Banking Products
Along with the notable name change, Ally Bank has also significantly improved its banking website and modified its product offerings to comport with the new and improved image. The company has made drastic upgrades to its customer service features - now offering zero wait time, 24 hours, 7 days a week telephone customer support (1-877-247-ALLY) - boldly plastering this new convenient feature on every page of its online banking website.
As the new name is supposed to conjure up images of a neighborly local credit union that's genuinely in tune with the needs of its customers, Ally Bank's former features and previous limitations have been re-worked and re-tooled to offer up a seemingly better banking experience. Eager to re-brand itself as an honest, straightforward, and transparent bank, the folks at Ally Bank have completely done away with all minimum deposit requirements, monthly fees, and minimum account balance charges. New Ally Bank customers are now free to deposit as little or as much as they wish into their new online savings or CDs, as all account deposits now enjoy the maximum interest rate offered regardless of balance. Here are some of the new and very compelling bank deals and offers from Ally:
Online Savings Account - The high yield online savings account from Ally Bank earns a very high APY rate - much higher than its competitors.
Money Market Account - With no account minimums and no monthly fees, the Ally Bank money market account with check writing privileges can be opened with as little as $1.
Classic CD - The classic fixed interest certificate of deposit from Ally Bank with automatic renewal features is a high yielding CD with no monthly fees and no minimum deposit requirements. The CD account compounds interest daily for maximum rate earnings.
No Penalty CD - The new and unique No Penalty CD offer from Ally Bank allows you to withdraw your money and put it anywhere, without the hassles or shortfalls of an early withdrawal penalty fee. This special CD account has no fees of any kind and offers high fixed rates with no minimum deposit requirements.
FDIC Insurance Guarantees and Protects Ally Bank Customers From Loss
If you remain unsure and uneasy about the safety and security of money deposited with Ally Bank - you're not alone. Despite the name change, Ally Bank is still essentially the same embattled GMAC Bank, but with a new shiny purple colored exterior and improved marching orders. Those who are concerned about the safety of their money in the event of a major run on the bank have good reason to be worried. Bank failures and financial instability are serious issues in this day and age, as several major banking institutions like IndyMac Bank and Washington Mutual have poignantly demonstrated in the past few months.
Fortunately, Ally Bank deposits are fully insured by the Federal Deposit Insurance Corporation (FDIC) up to the maximum coverage limits. FDIC insurance currently insures all of Ally Bank's certificate of deposit options, online savings accounts, and money market accounts up to $250,000 per depositor. Per recent changes with FDIC regulations, bank account deposits at FDIC insured institutions are now insured up to $250,000 through December 31, 2013. With FDIC insurance, your savings and accounts are completely guaranteed by the full faith and credit of the United States government to be safe from loss and protected in the event of any catastrophic banking failure or bankruptcy. So long as you stay within those limits, you will be fine.
As a former GMAC Bank customer myself, I woke up one day to find that my accounts had been converted over to the new Ally Bank. The conversion was surprising but not unwelcome as I rather like the new and improved features. As my new Ally Bank savings account rates have remained high and stayed the same, I have little to complain about. But don't take my word for it - if you are interested in Ally Bank, visit their new website at AllyBank.com and check it out for yourself.
For a more in depth critique and assessment of the newly renamed GMAC Bank, you may want to read my detailed Ally Bank review. Feel free to share your experiences and thoughts!