Get a Free or Cheap DVD Rental At RedBox
Published 8/25/07 (Modified 3/9/11)
By MoneyBlueBook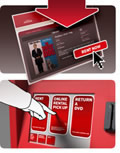 The other day I was at my local Giant Food grocery store and noticed several people examining a red kiosk. Upon closer inspection, I discovered that it was a DVD rental station run by a new company called RedBox. I guess I must be blind because apparently the red kiosks have been sprouting up everywhere.
The company runs DVD rental kiosks, primarily located inside of McDonald's restaurants and many grocery stores. The neat part is that DVDs can be rented for only $1 per day, with no late fees. Call it what you will, but you are simply charged a buck for every day you use it. Rentals must be returned before 7:00 p.m. the next day to avoid any extra day penalty (another $1). Each kiosk is fully automated, holding no more than 500 DVDs and can be accessed via a touch screen where you can select your DVD choice, and pay using a credit or debit card.
RedBox is excellent for people like me who want to go in, grab a movie, watch it, and be back in a day. For the slackers and lazy DVD returners, I suggest sticking with your usual video rental stores where they offer multiple day rentals.
Redbox is currently running a promotion, offering one night's free rental at any of their RedBox kiosks. Just visit their homepage, enter your e-mail address, and they'll send you a free DVD rental code. Wow you just saved $1. You're rich! :)