2 financial goals you should revisit every year
By Georgie Miller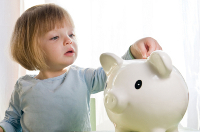 The holidays are fun and all, but considering how early we get bombarded with festive opportunities to spend (or save), for me they feel like they're over before they've even begun. What I really look forward to is the new year. Opportunity! Resolutions! Plans that haven't been screwed up yet! Sign me up!
Before you can reliably make plans for the future, however, it's important to know where you've been. So every year about this time, I like to conduct a little mini-review of my previous year's spending. Conducting an annual financial check-up can help you determine whether your goals are a reliable reflection of your life.
You should have two main goals in mind when you conduct your mini-review. Your first goal is to be as prepared as possible for those curveballs life inevitably throws your way. The second is to make sure the methods you use to pay for everyday spending are getting you the best bang for your buck.
Goal 1: Be prepared for irregular expenses
Irregular expenses fall into two main categories. The first type are those that are are predictable, but don't happen monthly. For example, my long-term care insurance bill comes quarterly. The second type of irregular expenses are incurred by events that could happen at any time, but you never know when (or how much) they will cost you. Think your car breaking down or your dog getting sick.
I keep track of my irregular expenses from both categories throughout the year. Then, every December, I add it all up and divide by 12. That's the average amount I spend on irregular expenses monthly. Once I know that number, I set up an automatic transfer to one of my high-interest savings accounts each month. That way, when expenses hit, I should already have the funds to cover it set aside.
I do this each year to make sure I'm taking the most recent information into consideration. As my car and pets get older, for example, I expect car repairs and vet bills to become more frequent and expensive (boo). Luckily, in the fortunate event that I don't use all the money I've set aside for the year, then I've beefed up my emergency fund without even trying. Bonus!
Goal 2: Optimize your everyday spending
Part two of my mini-review is to look at my spending habits with an eye toward using the best reward programs. If you've got a significant other, you can factor them in as well. For example, I pass our two favorite grocery stores on my way home, so I tend to do most of our food shopping. As a result, I make sure our grocery credit cards are in my pocketbook.
My husband, on the other hand, has a longer commute than I do, which means he fills up his tank much more frequently. So the gas rebate credit card is in his wallet. This way, we're not carrying cards we don't need. The ones that correlate most closely with our spending habits are ready to go!
Revisiting this every year helps you make adjustments when something has changed. For example, if one partner left the workforce to be a stay-at-home parent, maybe that person doesn't need to carry the gas card with rewards anymore. Or if you took a promotion that entails a lot of travel, you can check out credit cards with miles promotions, even if you've never needed one before.
Life's about process, not perfection
It's easy to say that you should make these changes as they happen. However, I think we all know that sometimes life gets away from us. Sitting down once a year to review your expenses and spending -- whether it's around the new year or not -- is a great way to realign your financial strategy with your financial reality.