Should you switch to an online-only bank?
By Jennifer Goforth Gregory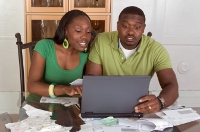 Many of us bank online today without a second thought. I use online bill pay to handle the electric bill each month, and regularly check my accounts and transfer funds without leaving my house. And while I haven't accessed my bank account from my mobile phone, according to a recent study from the Federal Reserve, 21 percent of mobile phone users have accessed their accounts through mobile applications in the last year.
But when my husband recently suggested moving our funds to an online-only bank account, I was a little surprised. Each year we sit together and review the rates and terms on all our accounts to make sure we are getting the best deal possible. While looking at the information, my husband pointed out that our credit union offered an online account with a higher interest rate than we were currently earning and much lower fees.
But when I looked at the fine print, I realized that this account would not grant us free access to our local branch and would require us to give up our checkbook. Not all online-only banks require you to give up your checkbook -- many now offer check-writing privileges just like an ordinary bank -- but that was the deal with this particular account.
Because we were already comfortable using online banking, our main concern was what we would lose in services and convenience by changing accounts. Here are three key questions that we asked ourselves when trying to make the decision.
1. How many times have we used branch services in the past year?
One of the biggest trade-offs for online accounts is that you cannot go into the local branch when you have an issue. I reviewed our account history for the past year to find out how many times we visited the branch and examined whether any of the transactions could have been handled without the trip. Almost all of my visits were to deposit checks or withdraw money, which could be done online or at an ATM. I was also pleased to find out that my bank offered phone and online customer support for its online bank accounts, as well as teller visits at the local branch for an additional fee.
2. How many checks have we written?
Since this particular deal would mean losing my checkbook, I went through my most recent check register and made a list of all of the checks that I had written to see if I could have used other means of payment. I was surprised to find out I actually wrote more checks than I realized, but almost all of them were to our veterinarian, who only takes cash or check, and to our children's school.
3. Will the increased interest outweigh any inconveniences?
After thinking about it, I realized that it would be inconvenient to have to get money out of the ATM each time I went to the vet. While I know how much an annual visit costs, I wasn't sure how I would deal with emergency visits for my dogs since the costs vary widely. And the thought of sending my 9-year-old, who visits the school lost and found weekly to retrieve his misplaced belongs, with cash for field trips, extra supplies and donation money instantly gave me a headache.
Making the call
So after thinking carefully about it, I decided that I wasn't quite ready to make the transition to the credit union's online-only account. But I have to stay that I am warming up to the idea of online-only bank accounts much more than I thought I would, especially after learning that there are online banks where I could still keep my checkbook, such as Capital One 360 and Ally Bank. Next year we may take our banking totally online.