Charge cards vs. credit cards: 3 reasons to charge it
By Tom Tennant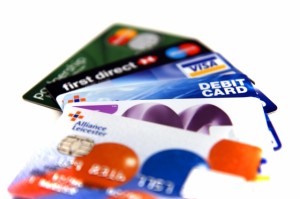 The other day, someone asked me, if given the option, which I preferred: charge cards or credit cards. My answer: "There's a difference?"
There is. And who knew? (If you knew, kudos, because I always thought "charge card" was what our ancient ancestors - Mom and Dad - called the plastic we carry around in our wallet.)
In short, charge cards offer no revolving credit and no interest rate. Sure, you can borrow up to your limit, but only for about 30 days. After that, the balance is due in full (that's why there's no interest rate). Can't pay? You'll likely incur a fee - it could be hefty - and your account could be suspended.
Credit cards, on the other hand, give you the option of making a monthly minimum payment. If you don't pay your balance in full each month, the balance rolls over (or revolves) into the next month. This "convenience" comes with a catch. Interest is levied on the balance, making your purchase cost more than its original price. This can be painful if all you do is pay the minimum.
Which is better?

The answer depends on your financial goals and the type of spender you are. If you're a student trying to establish credit for the first time, for example, or you are rebuilding credit, then opt for a charge card. Here are three reasons to "charge it":
Better your credit score. Building a great credit history necessitates having some form of credit account. A charge card with a low limit and consistent payments will show scoring agencies - and future lenders - that you understand how to manage your finances.
Keep your temptation in check. Knowing you have to pay your balance in full should make you watch how much you charge, which is important for first time card carriers learning to manage their money.
Carry an "emergency" card. More and more, plastic is a necessary financial instrument, which means you need to carry something. A charge card will keep you honest, let you rent a car or reserve a hotel room, and be there if you're traveling and don't have the cash to make an emergency purchase (think new tire, overnight stay, or urgent care visit).
What should I get?
The big names in charge cards today are still American Express and Diner's Club. But if you like the comfort of Visa and Mastercard, you can find those brand names, too.
For example, Chase offers customers its "Ink" charge card. Like all charge cards, there is no interest rate, since you must pay in full each month. But it does come with an annual fee. This is for its "enhanced" Ultimate Rewards program. Among other things, the program allows you to redeem reward points for airline tickets--any class, any destination--with no travel restrictions or blackouts.
What about a credit card?
When you're confident you can well manage your personal finances, then you might be ready for a credit card. Remember, a credit card will:
Allow you to make partial payments. If you're making a high-priced purchase and can pay the balance in full in two or three months, then the interest accrued might be worth the convenience. Just make sure you manage that interest rate carefully.
Allow you to make the minimum payment. There is a time to make the minimum, and it's only when another financial emergency demands that you divert funds elsewhere. These times should be few and far between, but when it's necessary, it's nice to know you have that cushion.
Better your credit score. Carrying a balance can actually help your score, as long as the balance is low and you don't maintain it for too long. The closer your balance creeps toward your credit limit, the more harm it will do to your score. Keep it under 30 percent of your limit at all times.