Getting paid on a prepaid card? Know your options
By Holly Johnson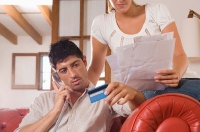 If your employer pays you on a prepaid debit card instead of a check, it doesn't have to be that way. Last fall, the Consumer Financial Protection Bureau issued a warning to employers in regards to how employees must be paid. According to the bulletin, employers can no longer force employees to accept payment on a payroll card, although they may still offer the option. In addition, employees who choose to accept payment on a payroll card became entitled to certain federal protections.
So, what is all the hubbub about? Basically, it's this: Many employers, particularly those of hourly employees, have moved away from traditional payroll checks and toward the use of prepaid debit cards over the last few years. And apparently, they have a big incentive to do so. According to Visa payment solutions, employers have a lot to gain from making the switch, with benefits such as convenience, less paper waste and significant financial savings.
Unfortunately, the benefits of prepaid debit cards aren't necessarily as obvious for employees. Firstly, according to the CFPB bulletin, some employees have complained about fees related to the use of their prepaid debit card, including fees for ATM use, teller withdrawals and balance inquiries. Secondly, many workers didn't realize that they had other options when it comes to how they're paid. These two issues helped prompt the CFPB bulletin outlining the current rules when it comes the use of the cards for payroll purposes, according to the agency's release.
Prepaid debit cards: It's your choice
Still, accepting payment on a prepaid debit card doesn't have to be all doom and gloom. After all, many employees are still choosing this option, even after learning that they don't necessarily have to. For all of the drawbacks, there are certainly some benefits. Here are a few:
It's cheaper for unbanked employees. Prepaid debit cards allow employees without a bank account to have access to their money without paying outrageous check-cashing fees.
Everything is online. Prepaid debit cards can be used to pay bills or buy items online or over the phone.
It's fast. Employees who are paid via prepaid debit card usually gain faster access to their money since they no longer have to wait for a paper check to arrive in the mail.
But if you're opting to accept a prepaid debit card for payment, you'll need to take a few extra steps to protect yourself from unnecessary fees and hassle. Here are some basic steps you can take to do just that:
Know your fees. Different prepaid debit cards have different fees associated with them. It's important to know when those fees kick in so that you can do your best to avoid them. Thanks to the CFPB, employees must now be presented with a list of all fees associated with their card. According to the CFPB, the disclosures must be "clear, in writing, and in a form that consumers may keep."
Track your transactions. Just like with a regular bank account, it's important to track your use and keep tabs on your balance. Knowing what you've spent and where can also help you stay on budget and on course with your financial goals.
Watch for errors and unauthorized use. The CFPB's beefed-up consumer protections also allow users certain error resolution protections when mistakes appear. In addition, card users only have limited liability for unauthorized use on their card, provided that the unauthorized use is reported in a reasonable amount of time.
If your employer is offering payment on prepaid debit cards, it's important to know your rights.
You need to know that you have options, including the option to opt out of prepaid debit cards altogether if you'd prefer to receive paper checks or a direct deposit into your checking or savings account. However, if you do choose to get paid with a prepaid debit card, there are steps you can take to put more money in your pocket. And if you're like most people, that's the whole point of working in the first place.