Pre-paid credit cards: Why you should give them a second look
By Ann Cameron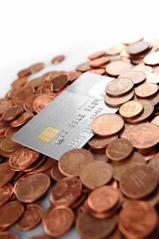 Today, it's often difficult for anyone to get a credit card - whether it's a zero percent balance transfer card or a best cash back credit card. And if you're just starting out -or starting over - getting an approval based on your credit score can be even more of a hassle. This is what makes pre-paid cards so attractive if you want to use them for online shopping, travel or even just everyday expenses.
As more and more of us are embracing the "card-only" lifestyle, a pre-paid card can be a great alternative to using a debit card or zero interest credit card.
If you need any more reassurance, take a friend's recent example. She attended an industry conference for a few days and needed to secure her room with a card - standard operating procedure for any hotel. She'd used her debit card to cover incidentals that she incurred, such as meals, Internet connection and minibar snacks. No problem.
But later that night at dinner, her debit card was rejected for being over her bank account limit. Apparently, the hotel was holding $150 on her debit card for those "incidentals" for each of the three nights she planned to spend there. Although the $450 was credited at the end of her stay, it still took a few days for it to appear back in her account.
A pre-paid card would have avoided holding her checking account hostage until the hotel decided to clear the account, and this is just one of its perks.
What are pre-paid cards?
Prepaid credit cards work the same way as debit cards, but instead of accessing the funds available in your checking or savings account, a pre-paid care allows you to load funds onto the card. Even better, because no credit line is extended, there is no credit check or free FICO credit score needed to qualify. Most pre-paid cards can be used anywhere Visa or MasterCards are accepted.
Consumers Union reports that the biggest player in the pre-paid industry is Green Dot, which raised $164 million in an initial public offering in July 2010 and has 3 million active users. It offers cards and reload services at some 50,000 retail stores nationwide, and it offers co-branded cards through Wal-Mart, Kmart and Meijer. Other major pre-paid credit card issuers include NetSpend, AccountNow and RushCard.
Top offers
Some of the following top pre-paid credit card offers include:
Account Now Gold Visa pre-paid card
100 percent guaranteed approval
$25 cash bonus for direct deposit
Deposit $3,000 or more in a month on your card and you pay absolutely no monthly service fee
Free online bill payment and check writing
Free credit builder
Monthly fee up to $9.95
Capital One Reloadable pre-paid MasterCard
No purchase price or activation fee
Accepted worldwide - everywhere that accepts Debit MasterCard
FDIC Insured
No credit check
No activation fee
Monthly fees up to $4.95
Green Dot Reloadable pre-paid cards
No credit check or bank account required
No minimum balance
Access more than 18,000 participating MoneyPass ATMs with no withdrawal fees
Direct deposit your payroll or benefit check
Simple fee plan with no overdraft fees
Pay No Monthly Charge in any month that you have at least 30 purchases post to your Card or load $1,000
READY Debit Visa pre-paid card
Free credit score reporting and credit builder
Free online bill payment and check writing
Free direct deposit
No credit check
No overdraft fees or minimum balance
Monthly fees up to $9.95
NetSpend MasterCard pre-paid card
No credit check required--100 percent approval
Free direct deposit
Free online cardholder-to-cardholder transfers
Earn 5 percent APY with optional savings account
Safer than cash--you're protected from unauthorized transactions
Monthly fees up to $5.00
Tips for using your pre-paid credit card
Once you get your prepaid credit card, here are three ways you can make the most of it:
Make sure you register it as soon as possible to activate fraud protection.
Notify your card issuer if your card is lost or stolen. In general, you are not liable for fraudulent purchases if you report the loss or theft of the card promptly.
Keep your eye on holds. Filling your car with gas, renting a car, or an extended hotel cab result in putting a hold on your card's the available funds. Make sure you have enough money to cover the hold as well as the purchase amount.
If you're using your pre-paid credit card to stay on top of your credit score, you can get your free FICO score once a year from the three credit reporting agencies - Experian, TransUnion and Equifax - at AnnualCreditReport.com.
Anne Cameron has two decades of experience writing for the financial services, education technology, and healthcare fields. Additionally, her work has been published in a wide variety of consumer, trade and custom publications.