6 steps to erasing holiday credit card bills
By Justin Boyle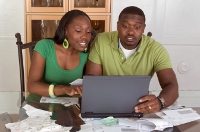 It's hard not to be generous during the holiday season, to ourselves as well as to others. The trouble with that generosity, though, is that it can lead to racking up some lofty balance figures on our credit card statements.
But starting today, you can formulate a solid plan of attack on that extra holiday debt. Here are six steps you can follow to make sure that the personal finance blow-back from your holiday generosity doesn't haunt you throughout the new year.
1. Freeze your spending
Every January 1, my aunt in New York takes whatever credit cards she's used for Christmas gifts that year and chucks them into the icebox. It keeps her from raising her balances any further, she says, while also serving as an effective reminder of her pledge every time she opens the freezer door. Her literal approach to a credit freeze may be a more eccentric gesture than you prefer, but using your own method to halt your spending can help you stop buying on credit as you get things under control.
2. Confront the numbers
Take an hour or so one evening to lay out a roster of your holiday credit cards. First, write down (or type in, if you use software your home accounting) the balances on each card. Then, figure your monthly interest rate and sort out how much more it would cost you to pay down your balances in nine or 12 months rather than three or six. The results might surprise you, and those figures might provide you with all the motivation you need to really focus on getting back in the black.
3. Reset your budget
It's easy to backslide into an un-budgeted spending schedule during the holiday season. I know I do it, and it's a rare specimen of personal financier who's prescient enough to budget for all the treats and surprises that come up at the end of a calendar year. So take a look back at last year's budget figures, adjust for new developments and fresh priorities and get back on track as soon as you can. Maybe even look into dropping that wishful New Year's resolution involving a gym membership and start jogging around the block or doing sit-ups at home instead.
4. Weigh a balance-transfer shuffle
If you're an average or above-average credit customer, chances are you have a few zero interest balance transfer credit card offers available to you. Take stock of your options -- don't forget to be careful of maximum transferable amounts or hidden transfer fees -- and think about pulling the trigger if there's a deal that looks like it will save you any considerable sum of accrued interest in the months to come.
5. Consider consolidation
If zero percent credit cards aren't an option for you and your debt has reached frightening levels, credit card debt consolidation can offer another avenue. Use caution when choosing this method, however. Although the promise of lower interest rates and a single monthly payment might be very enticing, it's important to read all the fine print on a consolidation deal before you sign in ink on the dotted line. Negative credit reporting may result from debt consolidation, and in some cases it's possible to contact your creditors yourself and negotiate better interest rates with them directly.
6. Start a plan for next year
Personal finance advisers will tell you until they're blue in the face: The best way to tackle holiday debt is to plan and budget for your holiday binges well in advance of Black Friday. If you've done any manner of holiday accounting for the last few years, those records can give you a fairly accurate idea of what sort of extra debits you should write in for next November and December. Setting aside some capital throughout 2013 in anticipation of heavy end-of-year spending traffic can make next year's credit reckoning go all the more smoothly.
Lastly, and perhaps most importantly, don't panic. You will get through this, and when you do, you'll likely be smarter, stronger and better prepared to tackle the fiscal beast of your own generosity in the years ahead.
Justin Boyle is a writer, editor and multimedia designer who lives and works in Austin, Texas.