Does your start-up need a business credit card?
By Justin Boyle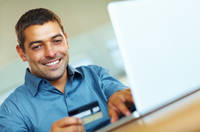 I'm not sure exactly when the fever took hold, but more than a few people I know have made the decision to start businesses in the last year or so. Whether it's turning an old Airstream trailer into a food truck, founding a software startup or turning a love of vintage objects into a resale shop on eBay, entrepreneurialism seems to be happening all around me.
Some general themes emerge when my enterprising friends talk about their ventures. Cautious optimism is pretty common, as you might expect, and practically everyone sighs heavily over start-up costs and overhead. All those sighs set me to wondering: What's the best way to pay for it all?
People who applied for business credit cards before doing any hefty spending tend to swear by their method, but those who dove into using their own personal credit haven't reported a long list of regrets either. Is one way really better than the other?
Let's take a look at some of the factors.
Reasons to get a business credit card
One of the biggest headaches of sole proprietorship is the necessity to keep track of your business finances. Even if you take an online course in double-entry bookkeeping and diligently budget for expenses each month, financing your business on your personal credit accounts requires painstaking record-keeping in order to make sure you're square with the tax man at year's end.
One advantage of a business credit card is the availability of monthly statements that contain only relevant business expenditures. Not that it's an excuse to quit saving receipts, but it does provide a failsafe in case you're not quite perfect.
Also, if you know you'll need to spend a good chunk of change to get your business underway, there's another potential advantage to using a business credit card rather than your personal credit: Banks know that businesses tend to move more capital through their accounts than individuals typically do, so higher credit limits may be available on business cards than personal ones.
Reasons to stick to personal credit
There are a few drawbacks to dedicated business credit cards that might make you think twice about signing up. For one thing, annual fees are standard on business credit cards and they can cost you anywhere from $65 to $250 per year. Some cards will offer a free introductory year for applicants with good credit scores, but finding a card with no annual fee is next to impossible.
Also, a report released earlier this year by CardHub found that the personal credit protections extended by the Credit Card Accountability, Responsibility and Disclosure (CARD) Act haven't made it to many of the business credit offerings currently on the market. While the full suite of protections offered by the CARD Act may eventually make it to business credit cards, for the time being, certain risks may be higher with these products.
A creative approach
One of my enterprising friends -- the Airstream restaurateur, for the record -- found a great way to use special card offers to finance her business. She signed contracts for two new personal credit cards: one cash back credit card with a decent rewards percentage and one that offers zero interest balance transfers for 18 months.
Naturally, she charges all her business purchases on the cash back card and periodically transfers the balance to the card with the zero interest offer. By sticking to business expenses with these new cards, she achieves the same separation of finances that a business credit card offers while raking in the cash back points and paying no interest until her business gets off the ground.
While a deal like hers might be restricted to customers with a particular credit score, it's wise to shop around and find out what's available to someone in your situation. Business credit cards definitely have their upsides, but with a little creativity, you might discover an option that works even better for your new business.
Justin Boyle is a writer and journalist living in Austin, Texas.