A Healthy Meal Option For Guys Who Can't Cook - Boca Veggie Burgers
Published 5/17/08 (Modified 3/9/11)
By MoneyBlueBook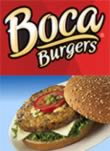 There seems to be a trend among online finance and frugality commentators to share their personal frugal meal solutions. Some have gone so far as to post step by step instructional guides on how to put together simple peanut butter sandwiches, or compiled detailed cost analyses of the ham and cheese brown bag lunch making process. I think these simple and frugal lunch plans are excellent how-to's for people like myself who are clumsy clowns in the kitchen. Single guys such as I are notoriously bad cooks. I think my lack of any real cooking ability simply is a byproduct of my single man laziness prowess, lack of hand skills when it comes to culinary creations, and overall personal opinion that cooking for one is too inefficient to even bother with. Thus far I've tried supermarket salad bars, Chinese carry out, Thai food take out, prepackaged frozen meals, microwave TV dinners, and the occasional home made steak, but my options always seem to boil down to eating ready made food or dining out (a particularly expensive habit). While I do try to find ways to save money by utilizing restaurant credit cards to earn cash back and rebate discount rewards when I dine out, the reality is that eating out is almost always more expensive and usually less healthy than preparing your own food at home.
Cooking and Preparing a Meal At Home Isn't Easy For Busy Single Guys (Or Gals) On The Go Who Lack Speedy Cooking Skills
While I'm sure most amateur Iron Chefs out there may simply suggest that I take the effort to go buy groceries regularly and learn to cook home meals for myself, I'm also fairly sure most of the individuals that would suggest that are either married, or have jobs that allow them to spend time grocery shopping and cooking actual complete meals. Much of my life is on the go and oftentimes I simply don't have the time to buy the ingredients needed to cook proper meals on a regular basis. If I had a family, a wife, and kids, I might be more motivated to do so, but when it's just one person, it just doesn't seem as cost or time efficient to do so. I did try cooking for a while, but each meal took too much time and oftentimes the vegetables that I purchased for use later expired by the time I got around to using them all. I have been told by friends and family that I'm very much the stereotypical single bachelor in his late 20's - adequately knowledgeable about financial and technological matters, but absolute butterfingers in the kitchen. While my long term food strategy is to marry a girl who knows how to cook like a pro and keep me well fed with hot meals, my short term meal solution is to continue to find shortcut ways to assemble a reasonable balance between speed, taste, and nutrition.
I've tried the sandwich route, eating cheap ramen, frozen pizza, Chinese dumplings, and even cooking steak in the oven, but the truth of the matter is that none of these meal choices are remotely healthy. All they do is increase my sodium and saturated fat intake, thereby increasing my blood pressure count and making me feel sluggish, as well as causing me to grow a very slight belly pooch. Most instant food products contain high fat, high sodium, lots of calories, and offer little nutritional value in return. Even the common lunch meats that many commentators seem to speak so glowingly about are actually very unhealthy as they are quite high in sodium, fat content, and artificial preservatives.
Eating Vegetarian Meatless Burgers and Food Products Is My New Quick and Healthy Food Solution

However, recently I discovered a culinary lifesaver for single guys like myself - Boca burgers, from Kraft Foods! Actually, the terminology should probably be - vegetarian prepackaged frozen foods. As a little side clarification, I'm no anti-meat PETA fanatic. I'm a hearty beef, pork, and fish eater, who enjoys a nice juicy medium well done steak or hamburger patty off the barbecue grill as much as the next guy. While I do love the taste of genuine meat, I can still appreciate the overall health benefits of vegetarian food products that are often vegetable, grain, and soy protein based. While I'm not a health nut, I do try my best to focus on healthier foods when I can by increasing protein and fiber intake while limiting saturated fat, processed sugar, and sodium consumption.
One particular ingredient that is frequently found in vegetarian imitation meat products like the Boca food line is soy protein. Soy is a very healthy ingredient most commonly found in tofu, and is usually more nutritious and high in fiber than most meat products. While I love burgers, cutting down on red meat has been said to have appreciable health benefits, as over-consumptions has been tentatively linked to higher risk levels of colon cancer. Since I'm a pretty thin guy with a high metabolism, I don't usually pay attention to caloric nutritional content, but I do pay extra notice to sodium, fat, and nutritional fiber percentages. The last time I had my physical exam and complete blood work done, my doctor advised me to consume more fiber. While I was otherwise very healthy, she suggested that I could benefit from an increased consumption of certain grains and vegetables high in dietary fiber. My purpose of eating vegetarian inspired burgers and sandwich products is to cut down on saturated fat and unhealthy ingredients of most other forms of prepackaged food, but do so in a way that is speedy and efficient. Even so-called healthier meat products like extra lean ground beef can only cut down the saturated fat content by so much. Veggie patties tend to contain less fat and much fewer calories - perfect for those who are weight and health conscious.
Boca and Other Vegetarian Food Products Require A Taste Compromise, But I think It's Worth The Nutritional Benefits
While I'll probably never quite give up the decadence of meat, I've grown to enjoy the taste of most vegetarian dishes. I've dined and eaten at very good vegetarian restaurants and cafes before. Many of the best vegetarian places are uniquely skilled at creating dishes that closely mimic the distinctive flavor of meat products but with all the nutritional benefits of soy and veggie ingredients. In downtown Washington D.C. near the Farragut North metro station where I work, there is a Korean, Asian fusion vegetarian cafe called Java Green that I often frequent. They serve the best vegetarian sandwiches and even die hard meat lovers enjoy them.
However, you don't have to dine out to get vegetarian food. Easily found in your common supermarket are extensive lines of Boca and vegetarian food products in the frozen foods section near the ice cream, tater tots and frozen pizzas. The great thing about these meatless Boca products is that they come in a wide selection of concoctions, from organic meatless burger patties, to meatless sausages, meatless lasagnas, to even meatless tacos. The company really tries to disguise the vegetarian nature by creating imitation flavor. While the meatless products will never truly fool meat connoisseurs into believing they are really biting into a hunk of meat, for some of the burger products, they actually do a pretty good job of substitution.
Sometimes it's hard to tell you're really eating a vegetarian burger patty. When you stick the Boca veggie pattie between two slices of whole wheat burger buns, insert a layer of iceberg lettuce, add an extra tomato slice, slab on some wasabi horseradish, and squirt on a dab of low sodium ketchup, if you're not paying attention, you could easily get fooled - not quite, but almost. The burgers even come in a variety of purportedly different flavors - including flame grilled, and roasted onion (although they all tasted the same to me). For those who like hot dogs, Boca even offers a nice line of meatless sausages and hot dog products.
While Boca from Kraft is probably the most well known vegetarian frozen food brand, there are also several competitors as well, such as Dr. Praeger, Morning Star Farms, and Gardenburger. However, I personally like Boca brands the best since I think they do the best job of re-creating the meaty flavor of real meat in their vegetarian products. The others, particularly Gardenburger seem to be geared towards the hardcore vegetarians as they are much more "vegetably flavored". Gardenburger products contain more grains and vegetables - hence the more veggie, and less meaty taste. Gardenburger is not the best when it comes to recreating imitation meat flavor. Their vegetarian buffalo wings are terrible - I'm convinced they simply slapped some tofu soy concentrate together and compressed it together to give it the denser consistency of buffalo chicken meat (tastes nothing like real chicken however). I'm only a soft core, part time vegetarian so I'm not as into the pure vegetarian burger experience - I prefer vegetarian products that do a better job of imitating meat dishes, like Boca. Brands like Dr. Praeger, Morning Star Farms, and Gardenburger would probably be better suited for real vegetarians or vegans who want the true vegetarian experience without the imitation meat flavoring.
Nutrition Comparison Between Boca Vegetarian Meatless Burger and The Common Meat Patty
Below I've provided the Nutrition Facts for both your standard Boca burger patty (on the left) and your standard McDonald's Big Mac Burger (on the right). Keep in mind that the Big Mac is not even the fast food chain's least healthy meal option. Compare the caloric count, total fat content, as well as the sodium and sugar numbers. Scary isn't it?
Boca Burger

(Roasted Onion)
McDonald's Big Mac Burger
Comparing the nutritional facts of Boca vegetarian burgers to that of your ordinary McDonald burger, the healthier choice is pretty clear. While Boca'll never be perfect substitutes for meat products, once you get accustomed to the taste, they can serve as quick and easy healthy food choices. It's just a matter of heating them up in the microwave at home and pairing up with some bread.