Published 8/29/13  (Modified 9/3/13)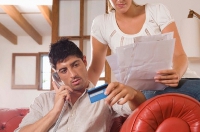 By Peter Andrew
Given that the story of my personal finances has been punctuated by small and not-so-small disasters, it's pretty amazing that I've never been flagged personally by ChexSystems. But for those who have been flagged by the company, is there any hope of clearing the record and regaining access to most checking accounts?
What is ChexSystems?
ChexSystems is like a credit bureau in that many financial institutions check with it before opening new accounts. Also like those bureaus, it's a "consumer-reporting agency" under the Fair Credit Reporting Act (FCRA) and some other federal laws.
However, there are some important differences between ChexSystems and a credit bureau. ChexSystems doesn't continually monitor a range of your accounts for late payments and other minor delinquencies. Nor does it deal in credit scores.
Instead, it maintains a register (some might call it a blacklist) of people who've fallen foul of their banks or credit unions.
Read the full article »