No card, no problem: 4 online payment alternatives
By Holly Johnson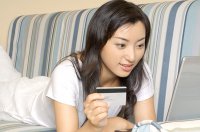 Recently, my husband and I decided to plan a vacation with a couple of our friends. After batting some ideas around, we all decided that we wanted to go to Mexico. Of course, I immediately started perusing the Internet for a deal.
Since we wanted to go as cheaply as possible, we considered a lot of resorts and a lot of dates in order to find the least expensive vacation package that was out there. After a few weeks of searching, I came upon an amazing travel deal on one of the online comparison sites. Excited, I called my friend. "I found the deal of a lifetime," I said. "Are you ready to book?"
"Totally ready," said my friend. After going over the details for a few more minutes, I suggested that she hop on the Internet so that we could book at the same time. Unfortunately, we had a problem. "Ummm … I don't have a credit card or even a debit card," she said. "How am I supposed to pay for this?"
I was completely caught off-guard. With so many transactions being completed online, doesn't everyone need to have at least one card?
Credit and debit card alternatives
With so many products being bought and sold over the Internet, it should be no surprise that there are now a variety of ways to make purchases without a credit or debit card. After all, many consumers shy away from credit cards altogether or choose not to have a bank account at a traditional bank. So what options are available for those who opt out of traditional banking products?
It turns out there are a few:
PayPal - PayPal is one of the most well-known ways to make purchases online without a card. It functions as a type of online account that you can use to make purchases or collect money when you sell something online. PayPal accounts are incredibly easy to set up and many mainstream stores are beginning to accept them as a form of payment. You can even add money to your PayPal account through a direct bank transfer from your online savings account. The main downfall of using PayPal for online purchases and payments is that there are fees involved with many of its transactions. Even though the fees only constitute a small percentage of the transaction, they can add up over time.
Google Checkout - As an online account that you can use to make purchases, Google Checkout is similar in many ways to PayPal. But not only can you use Google Checkout to buy items at thousands of online stores, you can also buy music and apps from the Google Play Store as well. Unfortunately, Google Checkout also charges fees on some transactions, and they can take a bite out of your budget if you use this service frequently.
PayNearMe - PayNearMe is yet another way to pay bills or make purchases online, but the process differs from PayPal and Google Checkout by allowing customers to make cash deposits in person at 7-Eleven convenience stores or ACE Cash Express stores. Once money has been deposited in a PayNearMe account, nearly any transaction can be completed over the phone or the Web using PayNearMe funds. Although PayNearMe seems convenient, it does, like its competitors, charge fees to sustain its business model.
Prepaid debit cards - Prepaid debit cards are one of the simplest options you can use for online purchases. Since they are readily available at grocery stores, convenience stores and online, they offer one of the most easily accessible ways to shop online without a credit or debit card. But as with all of the other options, prepaid debit cards frequently charge fees. While some cards are much better than others, if you use the wrong prepaid card too often, you could end up paying a lot more for your purchases than you planned.
Know your fees and your options
Of course, these are just some of the options available for making purchases online. With the Internet still growing and evolving at a rapid pace, I'm sure they won't be the last. But regardless of how you choose to make your purchases, it's important to know what fees and charges are involved in order to make an informed decision. Taking the time to investigate your payment options thoroughly can save you a lot of money over the long run -- and increase your savvy as a consumer as well.