12 easy steps to use eBay and pay down holiday credit card debt
By Jim Sloan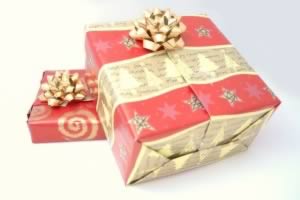 Our family loves the holidays, but every year after the tinsel and pine needles have been vacuumed up, we find ourselves with a couple of small problems: Too much credit card debt and a couple of heart-felt gifts we really don't want and can't return.
The answer for us has been pretty simple: eBay. By selling some of our unwanted stuff--sometimes it's Christmas gifts and sometimes it's just items we find in the garage when we put the decorations away--we're able to put a dent in that debt, even when we've used zero percent credit cards.
If this sounds like something you'd like to try, here's a 12-step program to help you use eBay to whittle down that credit card debt:
1. Start small. If you're new to eBay, begin by selling something that's easy to price, easy to photograph and easy to ship. This way you can practice setting up an auction, monitoring your sale and making sure you get good feedback from your first buyer right off the bat. This small transaction will also give you an idea about how costs and commissions work on eBay.
2. Sell something new. New goods are easier to price and sell than used goods. If your Aunt Florence gives you linen napkins every year and you're starting to run out of drawer space, sell them on eBay.
3. Factor in the costs of selling on eBay. It costs between $0.25 and $4.80 to list an item, and then eBay charges a 5 to 8 percent commission on the selling price. Make sure you've checked how much it will cost to ship and include that cost in your listing price.
4. Take good photographs of your product. One photo is usually enough, although you can add more for an extra charge or even direct buyers to a website to find more photos of your item.
5. Take your time writing a description. It's important to write a good, accurate listing that contains the keywords a shopper might use when searching for an item. Headlines should also contain the keyword, and some eBay veterans also include common misspellings of their keywords. Avoid cheesy sales pitches or exclamation points. If you keep getting the same question from buyers, add the answer to your listing.
6. Describe the item in detail and don't overlook any defects. Offering next-day shipping or money-back guarantees will help separate you from competitors selling similar items. This will also push your item higher up in the "Best Match" search results on eBay, as will high feedback ratings.
7. Price it right. Check previous sales to see how much similar items have sold for. You can do this by searching "completed listings" on the Advanced Search page.
8. Make sure bidders know you are fair and trustworthy. Don't overcharge for shipping or ask for a mysterious "handling fee," as these fees can make buyers inclined to shop elsewhere.
9. Time your auction to expire when activity on eBay is high. This can result in a bidding war on your item--something that isn't likely to occur at 4 a.m. on a Tuesday morning. You can research the best times to sell by visiting on such websites as Terapeak.com and HammerTap.com, which require a subscription.
10. Include your contact information and answer all inquiries quickly. If buyers can get in touch with you, they'll feel more comfortable bidding on something or paying the price you're asking. Ship your items as quickly as possible and keep the customer informed about when it went out and when it's expected to arrive. All of this will help give you a good rating.
11. Don't get nervous if the bids don't roll in right away. Most buyers wait until the last few minutes of an auction before making a bid. If you need reassurance, include a "counter" for your auction so you can see how many people view your item.
12. Use PayPal. It's fast, secure and easy to use.
In no time at all, these tips should help you rid yourself of post holiday clutter while helping you get extra cash to tackle that holiday debt.
Jim Sloan is a free-lance business writer and a higher-education communications specialist. He has worked as a business editor and writer for various newspapers and magazines. He is the author of two books, and his stories have been selected for a number of anthologies. He has a degree in journalism and environmental science from the University of Maine.