You vs. the average American credit card user
By Joe Taylor Jr.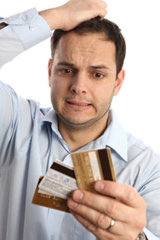 In college, grades are given out based on how you rank against your peers, and credit scores work the same way. So how do you stack up in terms of credit history?
Researchers working for major credit bureaus and scoring agencies, including Experian and Fair Isaac Corporation, regularly review data from their company's comprehensive collection of personal credit reports. Their statistics can shed light on whether your own credit history stacks up with that of the typical American consumer.
Ask yourself these questions to find out:
Do you use more than two credit cards?

If so, you're packing more in your purse or your wallet than the typical American consumer, according to Experian. For the first time in years, the average household carries just two active bank credit card accounts.

Many of us carry either zero interest credit cards, reward cards, or cash back credit cards. Fair Issac researchers estimate that counting all of our store cards, gas cards, and personal loans brings the typical American household up to about thirteen active revolving loans. Keeping only your two best credit cards helps you focus your spending while reducing your risk of identity theft.

Have you racked up more than $4,200 in credit card debt?

Experian's national review suggests that many of us pay interest on revolving balances of just over $4,200. However, the size of your credit card bill could have a lot to do with the place where you live. Researchers identified 25 cities with larger than average debt loads. Common factors influencing debt load include shaky job markets, higher gas prices, and home price instability.

Do you keep half your available credit limit free in case of an emergency?

It's more realistic than you think to keep that much headroom on your credit cards, according to Fair Isaac. More than half of us only use between 30 and 50 percent of our available credit. That's why it's no coincidence that many credit scoring models reward consumers who "churn" credit card balances with regular purchases without exceeding half their limits.

If you're like the one in seven Americans Fair Isaac estimates are within a few dollars of maxing out their credit cards, paying down your debt can significantly improve your credit rating. Finding a card with no balance transfer fee can help you balance your credit utilization across all of your accounts.

Can you remember when you opened the oldest credit card in your collection?

Credit scoring companies reward loyalty. Even if you've surfed from card to card with zero interest balance transfer offers, the length of time you've kept your oldest account open comprises a large part of your credit score. Fair Isaac estimates that most of us have one account we've used for at least fourteen years. Even though many credit scoring models penalize you in the short term for closing an account, many personal finance experts like to focus on the long term benefits of keeping just a few credit lines active.

Can you resist the urge to save 10 percent on your next retail purchase?

Clothing stores and big box retailers have become notorious for suggesting that we save big bucks at the checkout counter by opening a store credit card. However, Fair Issac research indicates that most of us have been fairly focused, with only one new account inquiry per year.

About 6 percent of Americans, however, can't say no to the bargains, and those consumers, have four or more new account applications in the last 12 months. These users could see a dip in their FICO scores under a new algorithm that assumes lots of inquiries signals a desperate hunt to get extra credit.

Do you remember to pay your credit card bill on time every month?

Even though recent changes to credit card regulations reduce the impact of penalty fees on your balance, missing payments can seriously damage your credit score. Fair Isaac reports that fewer than half of Americans have ever been reported 30 or more days late on a credit card payment.
Answering "yes" to most of these questions doesn't necessarily mean you're financially fit, though. Paying just the minimum payment on that $4,200 balance at an 18 percent APR could require more than two decades of finance charges. If you're turned down for credit, make sure to get your free FICO score and a free credit report, so you can find ways to improve your score.
Joe Taylor Jr. is an internal business consultant for a Fortune 500 company, who writes about finance, culture, and design. He holds a Bachelor of Science in Communications from Ithaca College.