Can the 10 percent solution strengthen your finances?
By Marc Pearlman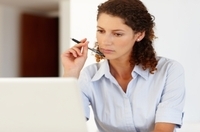 A sad truth today is that many Americans don't have enough personal savings to enable a worry-free retirement. But a common misconception among people who are struggling financially is that in order to get ahead, they must earn more income.
While more income is one solution to this problem, it's not the only solution. Furthermore, many working adults are living paycheck-to-paycheck, regardless of income. This suggests that the problem may often be more related than spending than income.
Find the right credit card for you